Former Federal CIO Kundra Joins Salesforce.com
As Executive VP, Kundra to Focus on Emerging Markets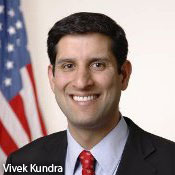 The federal government's biggest champion of cloud computing - former federal Chief Information Officer Vivek Kundra - has joined one of the first cloud computing providers as a top executive.
See Also: Live Discussion | Securing Business Growth: The Road to 24/7 Threat Detection and Response
Salesforce.com, which provides clients with customer relationship management software services over the Internet, announced Monday that Kundra has joined the 13-year-old company as executive vice president of emerging markets.
"Vivek Kundra is an amazing technology visionary who opened the eyes of millions to the transformational power of cloud computing," Salesforce.com Chief Executive Marc Benioff said in a statement announcing Kundra's hiring. "His disruptive leadership is just what the industry needs to accelerate the social enterprise."
During Kundra's nearly 2½-year tenure as federal CIO, he was a constant evangelist for cloud computing, and last February implemented the federal government's Cloud First initiative (see Kundra Eyes 25% of Fed IT Spend on Cloud Services), with the goal of one-quarter of the government's IT spend to be earmarked for cloud computing.
Kundra was among cloud advocates who didn't believe that organizations had to sacrifice security to implement new technologies. "Too often this focus on security has been used as an excuse to prevent the government from adopting the sort of innovative technologies that could better serve and engage the American people," Kundra wrote shortly after leaving office (see Kundra Reflects on His Federal CIO Tenure). "What's true is the inverse: Done the right way, using more nimble, flexible, modern technology enhances security by freeing the government from decaying infrastructure and custom-made applications written in obsolete computer languages even pre-dating the personal computer revolution."
Kundra, in a statement, described his new employer as "an industry disruptor" that helps organizations employ the transformative power of technology for change.
Before being tapped in March 2009 by President Obama to be the first federal CIO, Kundra had served as the chief technology officer for the District of Columbia and as the assistant secretary of commerce and technology for the state of Virginia. When he left the federal government this past summer, Kundra became a joint fellow at the Kennedy School and the Berkman Center for Internet and Society.