Critical Infrastructure Security , Cyberwarfare / Nation-State Attacks , Fraud Management & Cybercrime
Zelenskyy Makes Case for Ukraine Support in Washington Trip
US Quietly Strengthens Ukrainian Cyber Defenses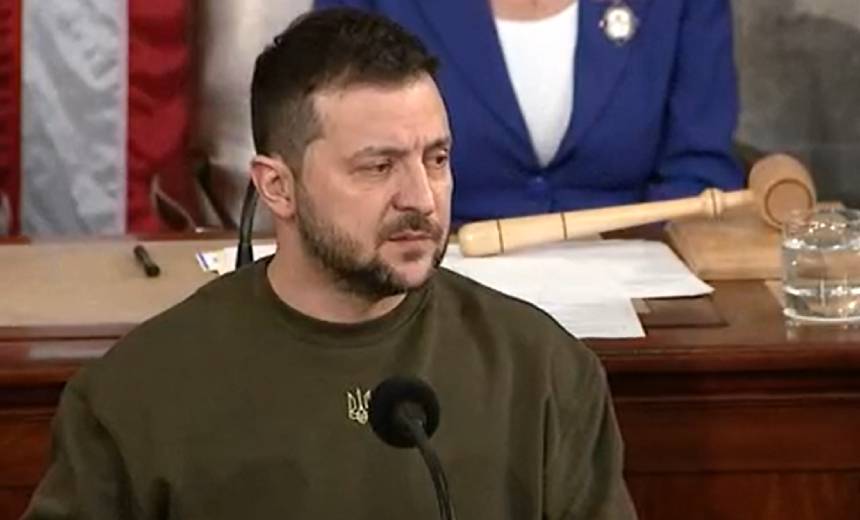 Ukrainian President Volodymyr Zelenskyy made a historic visit to Washington in a bid to shore up support during a critical moment when Kyiv's troops are locked in a grinding fight in Donetsk and Russian missiles are pummeling civilian critical infrastructure.
See Also: Live Webinar | Cutting Through the Hype: What Software Companies Really Need from ASPM
During an address before a joint session of the U.S. Congress, delivered exactly 300 days after Russia invaded Ukraine in February, Zelenskyy stressed shared values and urged bipartisan support.
"Your money is not charity. It's an investment in the global security and democracy that we handled in the most responsible way," Zelenskyy said. "Against all the gloom and doom scenarios," he told members of the House and Senate, "Ukraine didn't fall. Ukraine is alive and kicking."
The Biden administration timed its invitation to Zelenskyy with the announcement of a $1.85 billion aid package that includes a Patriot air defense battery in a bid to blunt further strikes on Ukraine's already diminished electricity production. The United Nations estimates half of the country's energy infrastructure has been affected by missile attacks.
Behind the scenes, U.S. assistance includes strengthening Ukrainian cyber resiliency, an effort that came into relief Monday when the Cyber Command of the Cyber National Mission Force within the U.S. was elevated to a subordinate unified command.
Force commander Army Maj. Gen. William J. Hartman told reporters the United States continues to conduct operations from inside the United States to assist Ukraine and stop Russian hackers.
"It's about building a force that can move faster than our adversaries, because we have the right set of equipment, the right authorities, and the right procedures that move with agility and speed," Hartman said during a ceremony to mark the force's elevation.
The force deployed in Kyiv a team that grew to 39 during the year ahead of the invasion, to strengthen Ukrainian cyber resiliency. Although withdrawn before the invasion began, the team's work paid dividends in diminishing the impact of Russia's cyber offensive, Air Force Secretary Frank Kendall said earlier this month.
The administration's release of $1.85 billion in assistance comes at "a defining moment for Ukraine," said Tom Kellermann, senior vice president of cyber strategy at Contrast Security.
"Destructive Russian cyberattacks are surging. It is time for the U.S. to not only endow Ukraine with long-range munitions but also to engage in proportional destructive cyber weapons," he said.
Analysis from the Carnegie Endowment for International Peace says Kremlin cyber operations have shifted from destructive attacks to intelligence gathering - but also that the Russian military lacks the ability to take advantage of cyber intelligence.
Cyber spying nonetheless remains a threat, the think tank assesses, particularly should Russian hackers be able to obtain real-time geolocation information of Zelenskyy or high-value Western weapons systems. Among the reasons why Russian cyber operations haven't had a greater effect are years of preparation by Ukraine to improve the resiliency of its digital ecosystem and "an unprecedented surge of cyber support from the world's most capable companies and governments."