Will Mergers Reshape Gov IT Security?
Industry Analysts Offer Some Answers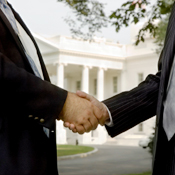 They come in drips and drabs every few weeks, another merger or acquisition of information security firms.

Within the past few months, Cobham PLC announced it will acquire Argotek Inc., a provider of information assurance services to American intelligence agencies, for $25 million; ManTech International acquired DDK Technology Group, a contractor servicing the Defense Department's Naval Criminal Investigative.Service; and the consultancy Deloitte agreed to take over the work most of it for the U.S. government, including IT security of bankrupt BearingPoint for $350 million.

And this week, software giant Oracle announced its plan to buy Sun Microsystems for $7.4 billion, beating out IBM that had a very public flirtation with Sun a few weeks back. The big IT vendors all providing some type of information security products or service in their vast array of offerings have been making headlines in recent weeks about possible mergers and acquisitions.

"As these large vendors extend their portfolios in IT management and information management, they will look to bolster their story by tying security into a unified strategy," Jonathan Penn, an analyst at IT advisor Forrester Research, wrote in a report earlier this year.

The IT industry is consolidating, but the professionals who make their living tracking how government employs IT, including information security wares, present a muddled and contradictory picture on how consolidation will have an impact on the government information security managers who buy products and services.

Ray Bjorklund, senior vice president and chief knowledge officer at government IT advisor FedSources, thinks consolidation will benefit government, for the most part, especially as IT security solutions are integrated into other tech products and services as Penn suggested. "A large firm can provide a more holistic offering that addresses the many facets of infosec," Bjorklund said. Yet, he adds that government information security managers need to be careful: "On the other hand, if that one firm picks the wrong core technology as part of the holistic solution, the solution may not meet customer expectations. Starting over is painful."

But analysts at another government IT advisory firm, Input, see consolidation limiting innovation and diversity. "In an industry that must respect small business and partnerships, the government is looking for the best quality at the lowest price," says Jeremy Potter, an Input senior analyst. "However, part of that is also staying competitive. Innovation and competition drive quality and new ideas, and any limit to that can adversely affect what the government has access to purchase and how they complete their mission"

And, as his fellow principal analyst Lauren Jones points out, fewer competitors could cost taxpayers more to buy products and services. "The government is required to pursue competitive acquisitions," she says. "The government obtaining the lowest cost bids depends on a healthy competitive environment."

Bjorklund responds that, on balance, IT industry consolidation should have minimal influence on competition. "By Department of Justice measures," he says, "the consolidation has not been dense enough among the 40,000-plus government IT vendors to compromise the competitive environment."

Consolidation could add muscle to the larger companies to spend more heavily in marketing and sales, the kind of spending that can affect "mindshare," Bjorklund says. "But because the government gives certain socio-economically disadvantaged firms the privilege of limited competition, small companies can be big players," he says. "And because some consolidations create meaningful synergies, the government IT buyer can sometimes benefit from a more integrated offering rather than having to apply effort to integrate the offerings of multiple contractors."