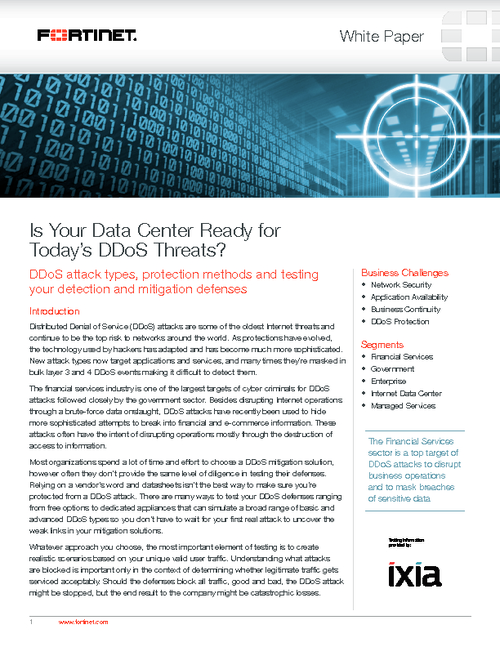 Distributed Denial of Service (DDoS) attacks are some of the oldest Internet threats and continue to be the top risk to networks around the world.
As protections have evolved, the technology used by hackers has adapted and has become much more sophisticated. New attack types now target applications and services, and many times they're masked in bulk layer 3 and 4 DDoS events making it difficult to detect them.
Most organizations spend a lot of time and effort to choose a DDoS mitigation solution, however often they don't provide the same level of diligence in testing their defenses. Relying on a vendor's word and datasheets isn't the best way to make sure you're protected from a DDoS attack.
There are many ways to test your DDoS defenses ranging from free options to dedicated appliances that can simulate a broad range of basic and advanced DDoS types so you don't have to wait for your first real attack to uncover the weak links in your mitigation solutions.
This white paper provides an overview of:
How DDoS attacks work;
Layer 3, 4 and 7 DDoS attack types and how they disable your network resources;
How to develop a DDoS mitigation testing plan and key things that need to be addressed.