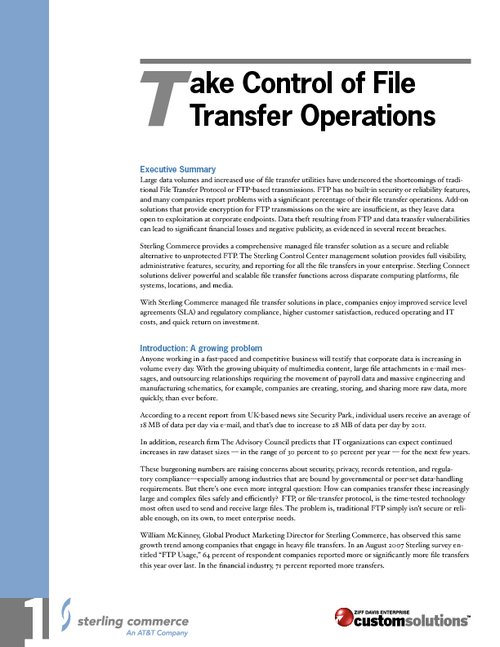 Anyone working in a fast-paced and competitive business will testify that corporate data is increasing in volume every day. With the growing ubiquity of multimedia content, large file attachments in e-mail messages, and outsourcing relationships requiring the movement of payroll data and massive engineering and manufacturing schematics, for example, companies are creating, storing, and sharing more raw data, more quickly, than ever before.
According to a recent report from UK-based news site Security Park, individual users receive an average of 18 MB of data per day via e-mail, and that's due to increase to 28 MB of data per day by 2011.
Large data volumes and increased use of file transfer utilities have underscored the shortcomings of tradi¬tional File Transfer Protocol or FTP-based transmissions. FTP has no built-in security or reliability features, and many companies report problems with a significant percentage of their file transfer operations. Add-on solutions that provide encryption for FTP transmissions on the wire are insufficient, as they leave data open to exploitation at corporate endpoints. Data theft resulting from FTP and data transfer vulnerabilities can lead to significant financial losses and negative publicity, as evidenced in several recent breaches.
Sterling Commerce provides a comprehensive managed file transfer solution as a secure and reliable alternative to unprotected FTP. The Sterling Control Center management solution provides full visibility, administrative features, security, and reporting for all the file transfers in your enterprise. Sterling Connect solutions deliver powerful and scalable file transfer functions across disparate computing platforms, file systems, locations, and media. With Sterling Commerce managed file transfer solutions in place, companies enjoy improved service level agreements (SLA) and regulatory compliance, higher customer satisfaction, reduced operating and IT costs, and quick return on investment.