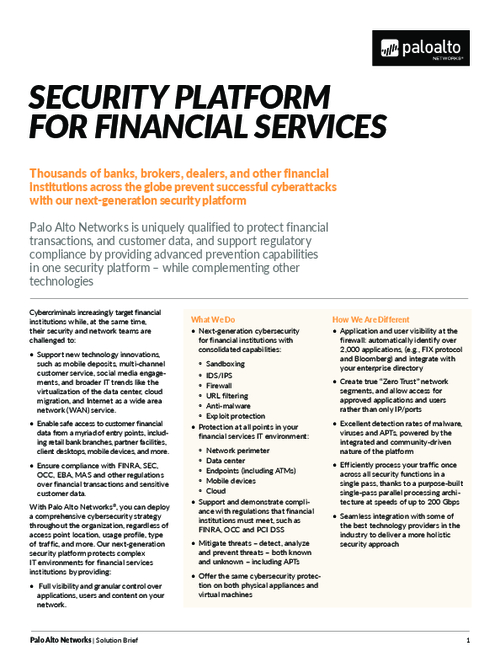 Financial institutions around the world are targeted by cybercriminals more than any other industry. To minimize risks, it is required to evaluate the current state of your security, aggressively identify the most significant risks, and modernize your security infrastructure.
Many organizations have been adding security products organically to address ad hoc security concerns. As a result, there will be a patchwork of siloed security solutions that are hard to manage, costly to maintain, and do not provide enough timely and integrated threat intelligence to systematically identify and block APTs.
Learn about how Palo Alto Networks:
Removes complexity from your current security infrastructure so you can more efficiently block today's high-volume cyberattacks and APTs;
Takes a modern approach to security, with innovative and efficient technologies that allow you to monitor and control all network traffic and automate threat prevention - all while optimizing your computing resources and human capital;
Assist you to minimize the business risks related to cyberattacks, whether from advanced targeted threats (APTs) or insider breach.