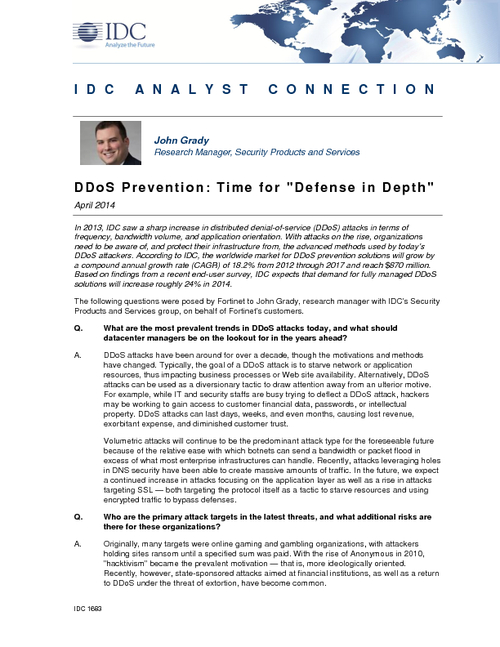 In 2013, IDC saw a sharp increase in distributed denial-of-service (DDoS) attacks in terms of frequency, bandwidth volume, and application orientation. With attacks on the rise, organizations need to be aware of, and protect their infrastructure from, the advanced methods used by today's DDoS attackers.
According to IDC, the worldwide market for DDoS prevention solutions will grow by a compound annual growth rate (CAGR) of 18.2% from 2012 through 2017 and reach $870 million. Based on findings from a recent end- user survey, IDC expects that demand for fully managed DDoS solutions will increase roughly 24% in 2014.
In this research Q&A from IDC, John Grady, Research Manager, Security Products and Services discusses the latest trends in DDoS attacks and ways to mitigate against advanced application layer threats.
This analyst report provides an overview of:
Prevalent attack types today and what to expect in the future;
Recommended protection strategies;
Pros and cons of different detection methods (signature vs. behavior-based);
The impacts of false-positive detections and ways to minimize disruptions.