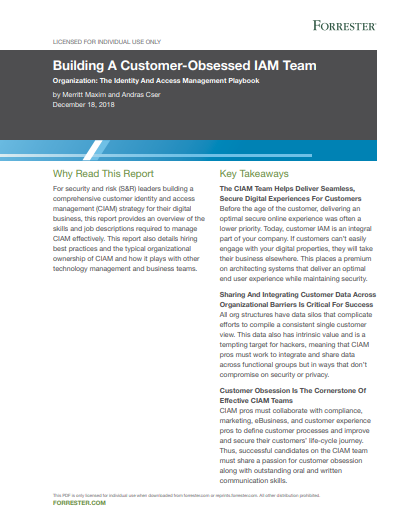 Customer identity and access management (CIAM) is increasingly important for brands to deliver the seamless, secure digital experiences demanded by empowered consumers. As part of its Identity and Access Management Playbook, Forrester Research provides guidance to build a customer-obsessed IAM team that has the technical skills, business influence, and interpersonal attributes to architect a CIAM strategy and roll it out across functional groups.
Read the full report to learn critical considerations to make your CIAM team effective. Report highlights:
Four essential roles for your CIAM team
Why sharing and integrating customer data across organization barriers is critical for success
The most important technical, business, and interpersonal skills to look for in CIAM candidates
In viewing this content, we would like to share your data with the content creator. Click here for more info or to opt out.