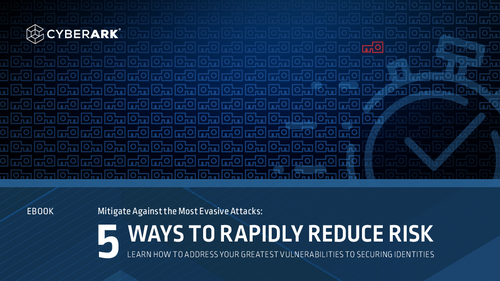 5 Steps to securing identities and credentials. Rapid incident response. Presented by CyberArk.
Often, IT security professionals find themselves under a lot of pressure to implement a rather complex cyber security solution in a very short time frame. The reasons could be numerous:
You are preparing for an IT securing audit;
You need to show proof of regulatory compliance;
Your security posture is being scrutinized by a cyber insurance underwriter;
You are building up your protection in the aftermath of a security event.
No matter the reason, rolling out foundational Identity Security solutions to secure human and machine identities across your organization is one of the first steps to take. You need to move fast to address your most urgent Privileged Access Management (PAM) requirements in the shortest amount of time possible.
Read this eBook presented by CyberArk –"5 Ways to Rapidly Reduce Risk". This eBook will put you on the fast track to mitigating the most serious cyber risks and protecting against the most evasive attacks – immediately. The best practices described in the eBook are prescriptive, tried, and tested.