Big Data Security Analytics , Enterprise Mobility Management / BYOD , Events
Mobility and Big Data: Revolutionizing Financial Institutions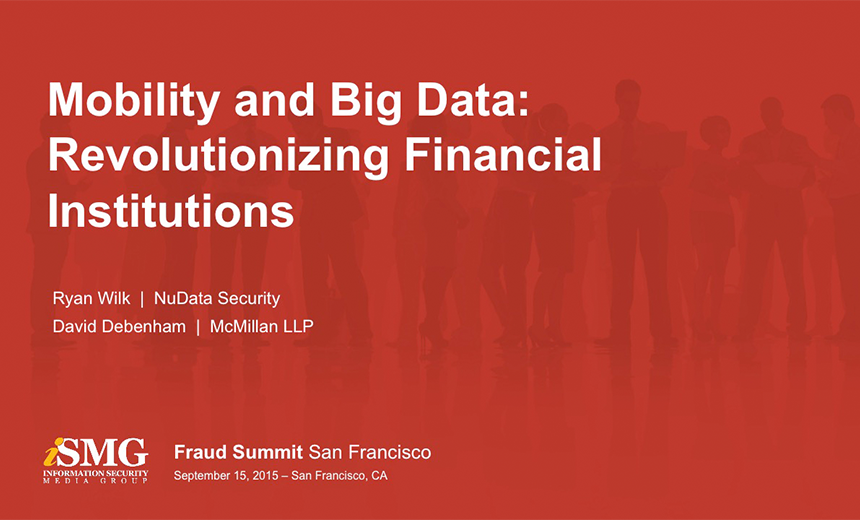 In this insightful session, you will learn about two aspects of the Mobile Banking Revolution:
Part I - Don't Just Stop Fraud; Improve Customer Experiences: Consumers demand online and mobile banking -- but the financial institutions are justifiably cautious about putting their customers at risk of fraud. Banks and financial institutions know they need to aggressively push higher-risk functionality out to mobile and online devices, at the same time, fraud will follow. The challenges that the financial industry faces in the fight to lower fraud loss has an enormous impact on customer service.
Learn how banks have turned to a multi-layered approach of Big Data, biometrics and behavior to:
Drive growth and reduce weighty fraud costs of fraudulent account openings and applications.
Prevent mobile malware infections or valued customers' accounts being taken over by identity thieves.
Enhance rather than degrade the customer experience.
Detect fraud without impact to their most valuable customers.
Reduce false positive fraud alerts, which damage customer trust.
As a highly customer-centric industry, banks and financial service providers need to make sure they are attacking fraud strategically and not disrupting their customers' digital experience.
Part II - Big Data Analytics and Big Money Fraud Litigation: Mobile banking is growing out of its infancy and experts predict it will soon be the dominant banking and payments channel. But with the vast array of mobile endpoints being utilized, the risks and threats are growing. To battle this, banks are increasingly using Big Data analytics to discover, track and battle fraud. Increasing their use and gathering of data also ups the need for liability awareness. You will learn how:
Big Data Analytics and real-time architectures are changing the nature of the information gathering banks can do
Constructive knowledge can battle fraud
Emerging case law affects the financial institution's responsibility and accountability for fraud
What it all means for financial institutions and security professionals - what is a financial institution's duty to clients and others when uncovering fraud?
Additional Summit Insight:
Hear from more industry influencers, earn CPE credits, and network with leaders of technology at our global events. Learn more at our Fraud & Breach Prevention Events site.