Internet of Everything - Connect it First, Secure it Later - Please Don't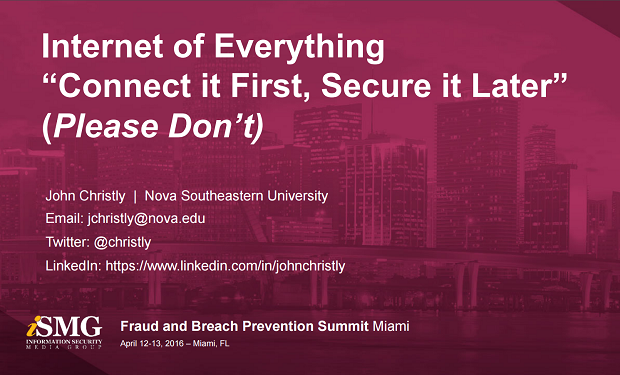 The proliferation of IoT devices will is expected to grow to over one trillion in the next few years, but any device that can communicate with another over the public Internet can potentially provide a direct conduit to some very private and valuable information that these types of devices are gathering.
See Also: Now OnDemand | C-Suite Round-up: Connecting the Dots Between OT and Identity
In our rush to connect everything together, secure connectivity and information handling is frequently an afterthought, if ever even a thought at all.
Is it possible to instill sound SDL (security development lifecycle) practices into the initial build of these new devices? Should these devices be regulated like medical devices are?
An alternative to waiting for built-in security to occur is to bolt it on after it is built and sometimes even after it has been deployed. But why wait? And what are we waiting for? A breach?
Join us as we explore some best practices to secure IoT systems from the beginning, so they don't have to be redesigned later.
Additional Summit Insight:
Hear from more industry influencers, earn CPE credits, and network with leaders of technology at our global events. Learn more at our Fraud & Breach Prevention Events site.