Cyberwarfare / Nation-State Attacks , Fraud Management & Cybercrime , Fraud Risk Management
VP Pick Kamala Harris Has Supported Election Security Bills
So Far, Various Senate Proposals Have Failed to Advance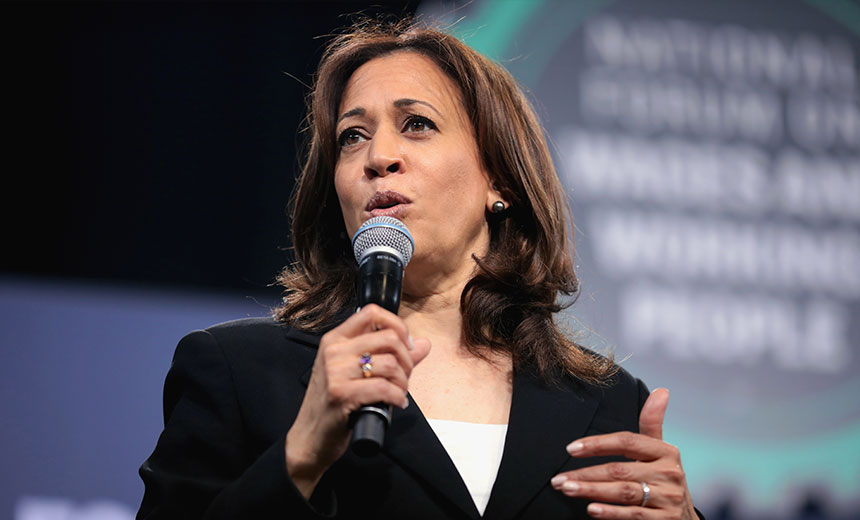 Sen. Kamala Harris of California, presumptive Democratic presidential nominee Joe Biden's pick for his vice presidential running mate, has a track record of interest in election security issues.
See Also: OnDemand | Understanding Human Behavior: Tackling Retail's ATO & Fraud Prevention Challenge
During her three years in the Senate, the former California attorney general and San Francisco district attorney has sponsored several bills related to election security.
In her most recent move, Harris co-sponsored in May the Vote Safe Act of 2020.
The bill would offer $5 billion in federal aid to states to help expand voting by mail and ensure it's secure. It would also create a 20-day window to allow for early voting to ensure ballots could be securely delivered and counted.
The bill is pending in a Senate committee, and a similar measure has been introduced in the House.
Voting machines down.
Limited provisional ballots.
Hours-long lines. #VoterSuppression is happening right now across Georgia, particularly in Black communities. We can't let this happen in November. Congress must immediately pass my VoteSafe Act.

— Kamala Harris (@KamalaHarris) June 9, 2020
Other Legislative Initiatives
Earlier, Harris supported numerous other bills designed to make elections more secure, including mandating hand-marked paper ballots and setting new cybersecurity standards for all federal elections to protect against foreign election interference. But those measures have failed to advance.
In 2019, Harris, along with 11 other senators, co-sponsored the Protecting American Votes and Election Act.
That bill would ensure that all voting machines use paper ballots to create a record as well as mandate audits of federal elections to ensure there is no interference. The bill remains stalled in the Senate.
Paper ballots are the smartest, safest way to conduct secure elections and protect from voter manipulation. Russia can't hack a piece of paper. Our nation needs to be ready to protect our election systems against attacks by foreign powers. Now is the time to prepare.

— Kamala Harris (@KamalaHarris) February 20, 2019
Harris also co-sponsored a 2017 bill, the Secure Elections Act, which would have created an independent committee to help write uniform cybersecurity standards for elections. Despite backing from Republicans and Democrats, the bill ultimately failed to pass the Senate, according to the Washington Post.
Republican Opposition
While Harris and other Democrats have repeatedly attempted to pass election security bills for the past two years, the efforts usually have been blocked by Republicans. Senate Majority Leader Mitch McConnell of Kentucky told The New York Times that the 2018 election, which had few problems, shows that more funding or new laws governing voting and elections are not needed at this time.
While Democrats and Republicans have argued over the size and scope of proposed legislation, some security experts note that the debate has drawn attention to important issues.
Tom Kellermann, the head of cybersecurity strategy at VMware who formerly served as a cybersecurity adviser to President Barack Obama, says: "These thoughtful bills are meant to ensure the safety and soundness of our democracy. Whereas they might not be perfect, they are forward leaning and of paramount importance particularly when our Cold War adversaries - China and Russia - are conspiring."
Meanwhile, Christopher Krebs, the director of the U.S. Cybersecurity and Infrastructure Security Agency, said in July that increasing the use of paper ballots is one way to improve security for the November elections.
Foreign Interference
Harris serves the Senate Intelligence Committee that investigated foreign interference in the 2016 presidential election. Over the last year, the committee has produced four reports about cyber incidents and disinformation that it found in the run-up to that vote (see: Senate Report Affirms Russian Election Interference Findings).
"Given that we are in another election year, we must do everything in our power to protect our election system and ensure it is free from foreign interference and domestic voter suppression," Harris said in April.
The U.S. Office of the Director of National Intelligence issued a warning Friday that Russia, China and Iran are all seeking to influence the 2020 U.S. presidential election in November (see: US Intelligence Adds More Details on Election Interference).
In a recent statement, majority leader McConnell joined Sen. Marco Rubio, R-Fla., in saying: "The intelligence community, law enforcement, election officials and others involved in securing our elections are far better postured, and Congress dramatically better informed, than any of us were in 2016 - and our Democrat colleagues know it."