Van Hitch to Retire as Justice CIO
Co-Chairs Federal CIO Council's Panel on IT Security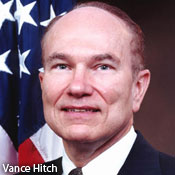 The longest serving chief information officer of a major federal agency, the Justice Department's Vance Hitch, will retire next month after nine years, his office confirmed Friday.

Hitch was influential in shaping the way departments and agencies addressed IT security as the co-chairman of the Federal CIO Council's information security and identity management committee.

In a 2009 video interview with GovInfoSecurity.com (see DoJ Goes on Cybersecurity Offensive), Hitch said agencies must be proactive in combating IT security threats. "Otherwise we're just swatting flies in a roomful of flies," he said. "If we can't find the places where they're coming in, patching the holes, and putting bug kill in the right places, we don't have a chance."

At Justice, he instituted a system of automatically patching departmental computers, conceptually a simple process but one many agencies hadn't employed at the time.

Among his achievements during his 9-year tenure is the creation of an IT security operations center that continuously examines network traffic. "The assurance people being hooked up with the operations people, that's exactly what the Justice security operation center does. It makes assurance operational," he said. "As we're running our systems, and our applications, we're monitoring, we're analyzing, we're assessing and we're reacting."

Revelation of Hitch's departure comes one day after the White House announced the resignation of Federal CIO Vivek Kundra, who will become a Harvard University fellow in August (see Vivek Kundra Resigning as Federal CIO).

Hitch has served as Justice's CIO and deputy assistant attorney general since 2002, managing a its $3 billion of IT programs. He also the deputy attorney general and assistant attorney general for administration in the management of IT infrastructure across the 2,000 locations in 500 cities.

Before joining DoJ, Hitch was a senior partner at Accenture, where during his 28-year career at the consultancy, managed major practice areas as well as designed and developed major technology initiatives for the government.