VA Taking it Slow on iPads, iPhones
But Dept. of Veterans Affairs Plans an 'Apps Store'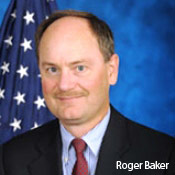 In October, the Department of Veterans Affairs will launch a go-slow approach to enabling physicians and others to use Apple iPhones and iPads for limited purposes.

Eventually the VA expects to offer an "apps store" that will provide applications approved for use within the department, Roger Baker, the VA's CIO, said during a news media conference call Sept. 28. But until those apps are ready, a limited number of VA staff members will use the smart phones and tablets primarily for encrypted e-mail and as viewers to access a VA clinical information system, but not to store patient information.

"We're being careful to not increase our breach exposure as we roll these devices out," Baker said.

The mobile devices will use an e-mail client with an encrypted tunnel to exchange information with a VA server, he explained. The VA also will use a mobile device manager to enforce policies. For example, "If I could load an unencrypted e-mail product on my VA-issued mobile device, the mobile device manager would find it and block me from accessing VA information until I removed it," Baker noted.

"Information protection is a priority in using these devices," the CIO added.
Limited Rollout
The VA initially will acquire about 1,000 of the smart phones and tablets, Baker said. "We're going to limit growth initially to make certain that there's a bone fide business requirement for the mobile device," he said. To help cut costs, "We're also going to require a trade-in," he added. "You can't acquire one of the newer mobile devices unless you give up your Blackberry or your laptop."

About 17,000 Blackberry devices are now in use at the VA, Baker said.

To make the case for acquiring one of the Apple devices, Baker said, "you have to determine that either encrypted e-mail on a device like this is so important that you need one or that you will be accessing patient information through the viewer and that, by and of itself, is necessary from a mobile standpoint vs. all the workstations and laptops we've got available today that provide access."
VA App Store in the Works
The VA envisions creating an apps store "with a whole variety of apps that have been built specifically to aid us inside the VA enterprise," Baker said. The VA, as well as outside vendors, will develop the applications.

"Right now, there are a number of apps relative to medical care that are in various stages of development, but none are ready for rollout," Baker said. One application likely will provide a robust interface for accessing electronic health records, he said. Another will "allow clinicians to view statistics for their facility or their portfolio of patients."

Baker expects interest in the new devices to ramp up in the months ahead as the applications become available. "The concept of building apps and then having an apps store to deliver them ... is a critical piece of this."

Last month, Baker noted he was test-driving an iPad as a substitute for his laptop. And he said feedback from clinicians about iPads and iPhones had been positive.

And in July, when he first revealed plans for the VA to accommodate iPads and iPhones, Baker, who's full title is assistant secretary for information and technology, said the department expected to eventually allow the use of a long list of secure mobile devices. He portrayed the strategy as a cost-reduction move (see: VA to Allow Use of iPhones, iPads ).