Using Social Media for Biosurveillance
Homeland Security Testing New Way to Spot Public Health Issues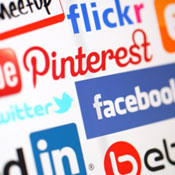 The Department of Homeland Security is testing whether scanning social media sites to collect and analyze health-related data could help identify infectious disease outbreaks, bioterrorism or other public health and national security risks.
See Also: Live Webinar | Education Cybersecurity Best Practices: Devices, Ransomware, Budgets and Resources
The department has signed a $3 million, one-year contract with Accenture Federal Services, which is providing software and services for the project. The biosurveillance pilot involves automatically scanning social media sites, such as Facebook and Twitter, to collect and analyze health-related data in real time, says John Matchette, managing director for Accenture's public safety portfolio.
The information being collected includes a variety of health-related keywords and other information, including medical symptoms, that show up in social medial postings. The data will be collected and analyzed in aggregate, Matchette says. "The information won't be tracked back to individuals who posted it," he stresses, to help ensure privacy.
But one privacy advocate questions whether DHS is taking adequate steps to ensure privacy.
"Even when data is in aggregate, we don't have any clear policies around how data will be used and how it can be traced back, including if and when there are signs of an illness outbreak," says Deven McGraw, director of the health privacy project at the Center for Democracy & Technology. "I think it's a legitimate question to ask [DHS] what the guidelines are for using this data. I'd prefer they have a plan in advance for dealing with this, rather than waiting."
Representatives of DHS and Accenture did not reply to a request for comment on McGraw's concerns.
Watching for Trends
The social media data analytics technology will "watch for trends," such as whether new or unusual clusters of symptoms in various geographic regions are being reported on social networking sites, Matchette explains.
The analysis of social media data is evolving, he adds, pointing out that both recent presidential campaigns tapped into sites such as Facebook and Twitter to comb through data for trends.
While Accenture's work in this pilot focuses on analysis of social media data, the biosurveillance effort has underlying capabilities that could be expanded to integrate data from other sources, such as hospital emergency departments, drug distribution companies and the Centers for Disease Control and Prevention, Matchette says. "This is big data analytics."
The project is the latest in a series of DHS data analysis efforts for biosurveillance. For example, DHS already is analyzing data that's collected by the CDC from public health departments nationwide. Also, it's collecting and analyzing air samples in several cities for signs of bio-terrorist chemicals, such as anthrax.
The technology infrastructure for the social media project includes Accenture's collaboration platform software and social media analytics software from Accenture's partner in the project, SAS Institute.