Cybercrime , Fraud Management & Cybercrime , Fraud Risk Management
US Seizes Domains of Websites Linked to Iran, Iraq
Justice Department Alleges Sites Target US With Disinformation Campaigns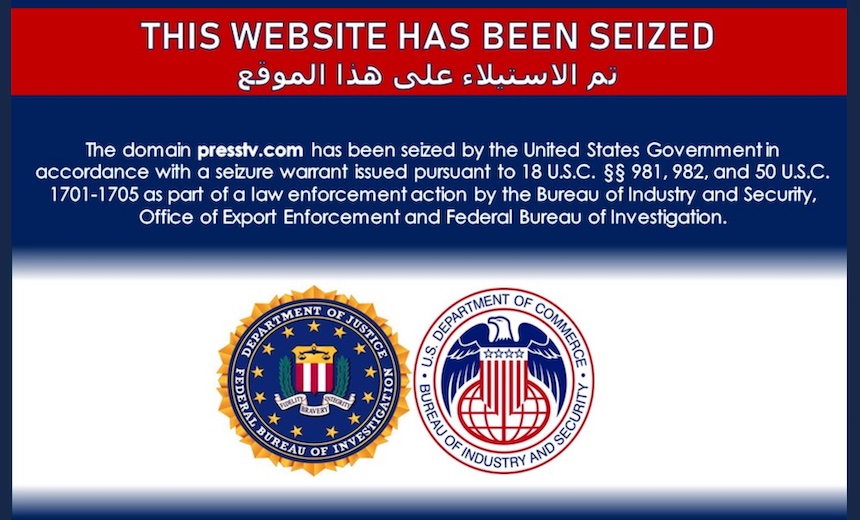 The U.S. has seized the domains of 36 websites linked with Iran and Iraq for allegedly publishing disinformation and running malicious influencing campaigns targeting Americans, the Justice Department says.
Thirty-three of the websites belong to the Iranian Islamic Radio and Television Union, or IRTVU, and three belong to Kata'ib Hizballah, or KH, a paramilitary group based in Iraq. KH has been designated as a foreign terrorist organization since 2009, and IRTVU was put under sanctions in October 2020, the Justice department says.
Both organizations failed to get a license, as required under sanctions, from the Office of Foreign Assets Control before purchasing domain names from U.S. companies, authorities say.
See Also: OnDemand | Understanding Human Behavior: Tackling Retail's ATO & Fraud Prevention Challenge
The Fars News Agency, Iran's semi-official news outlet, called the seizures "a flagrant violation of the freedom of the press."
IRTVU was put under sanctions on Oct. 22, 2020, just a day after the FBI accused Iran of pushing misinformation, targeting U.S. voters and attempting to damage trust in the U.S. election system (see: US Alleges Iran Sent Threatening Emails to Democrats).
Earlier that same month, the Justice Department said it seized 92 domain names tied to Iran's Islamic Revolutionary Guard Corps. The department alleged the domain names were involved in a global misinformation campaign to spread Iranian propaganda. That investigation, which started with a tip from Google, also involved Twitter and Facebook, the Justice Deparatment said.
Top-Level Domains Affected
Fars News Agency tweeted four screenshots late Tuesday showing seizure notices affecting Press TV, an English-language Iranian outlet; al-Masirah, which broadcasts in Yemen; al-Maalomah, which is aimed at Iraq; and al-Alam, a television channel based in Iran.
The US Admin. Blocked Websites of Several News Agencies & TV Channels, Including Press TV, Al-Masirah, Al-Alam & Al-Maalomah, on Tuesday in A Flagrant Violation of The Freedom of The Press pic.twitter.com/TTnqX8RcT0

— Fars News Agency (@EnglishFars) June 22, 2021
Bahrain's LuaLuaTV tweeted that it was also affected.
The version of the sites that were affected were top-level domains such as ".com," ".net." and ".org," whose administrators are U.S. entities. Press TV, which wrote a story about the seizure of the sites, says its site can continue to be accessed using the ".ir," ".tv" and ".co.uk" versions, which are country-code top-level domains.
Some of the affected websites and news outlets have faced suspensions or prior bans. Twitter suspended al-Masirah's account, which was run by Yemen's Iran-backed Houthi militia, in October 2020, according to Reuters.
The notices say the websites have been seized by the U.S. government in accordance with a warrant. The seizures were carried out by the Bureau of Industry and Security, the Office of Export Enforcement and the FBI, the Justice Department says.
Disinformation Cleanups
Iran, as well as Russia, have frequently seen cleanouts of content on social media platforms for violating terms of service and allegedly pushing propaganda. Google and Facebook have increased their efforts over the years to remove channels and groups dedicated to misinformation.
Press TV alleged in a news story about the latest Justice Department seizure that Google "has recurrently taken on Press TV more than any other Iranian outlet given the expanse of its viewership and readership."
Press TV says that Google suspended its YouTube channel for the seventh time in March due to violations of community guidelines. Facebook took the same step, Press TV writes. Its Facebook page, however, was "reinstated a few days later."
In August 2018, Google suspended 39 YouTube channels, six blogging sites on Blogger and 13 Google+ accounts that it alleged had disguised connections to Iranian broadcasting outlets.
Around the same time, Facebook said it removed 652 pages and groups related to government-run campaigns linked to Iran and Russia (see Google Suspends YouTube Accounts, Content Linked to Iran).