Critical Infrastructure Security , Cyberwarfare / Nation-State Attacks , Fraud Management & Cybercrime
US Intelligence Adds More Details on Election Interference
Russia, China, Iran Look to Influence 2020 Presidential Election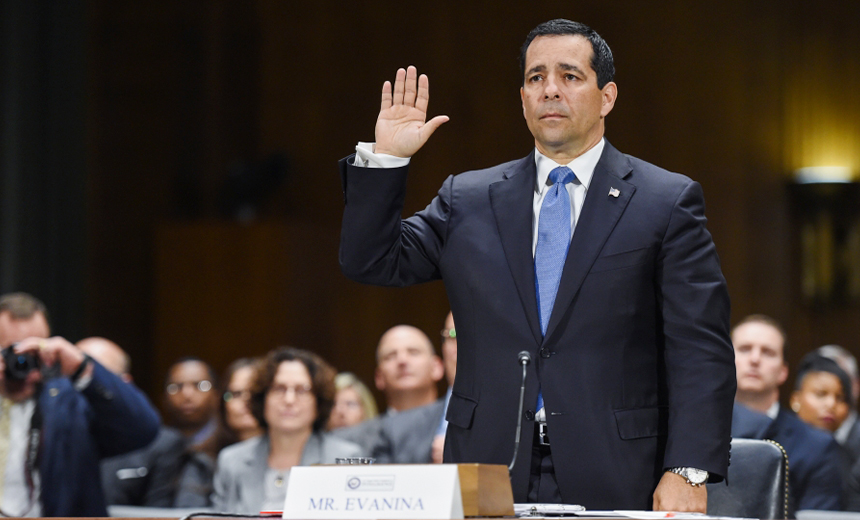 Russia, China and Iran are all seeking to influence the 2020 U.S. Presidential election in November, according to a report released Friday from the Office of the Director of National Intelligence that offers details about each country's plans and political goals.
See Also: OnDemand | SaaS: The Gaping Hole in Your Disaster Recovery Plan
William Evanina, the director of the National Counterintelligence and Security Center, notes in the new report that while it is difficult to manipulate voting results at scale, nation-states are trying to influence the outcome. Some countries, such as Russia and China, are actively working against certain candidates.
Evanina adds that other countries are looking to sow doubts about the U.S. democratic process or target the country's voting infrastructure.
"Ahead of the 2020 U.S. elections, foreign states will continue to use covert and overt influence measures in their attempts to sway U.S. voters' preferences and perspectives, shift U.S. policies, increase discord in the United States, and undermine the American people's confidence in our democratic process," Evanina notes in the report. "They may also seek to compromise our election infrastructure for a range of possible purposes, such as interfering with the voting process, stealing sensitive data, or calling into question the validity of the election results."
This is the second report that U.S. intelligence has released about nation-states that are seeking to influence the 2020 elections. Evanina previously noted that while Russia, China and Iran present the greatest threats to November's elections, other countries are also seeking to influence the vote and spread disinformation (see: US Intelligence Warns of Foreign Election Interference).
Unlike Evanina's last report, which Democrats criticized, the new report released Friday garnered bipartisan support, including praise from Sens. Marco Rubio, R-Fla., and Mark Warner, D-Va., who lead the Senate's Intelligence Committee.
Intelligence Acting Chairman Sen. @MarcoRubio and I released a joint statement in response to @NCSCgov Director Bill Evanina's statement on election security.
Read it here: https://t.co/pruo82Fxlm pic.twitter.com/M1DO2sL4JU

— Mark Warner (@MarkWarner) August 7, 2020
"NCSC Director Evanina's statement today builds on and provides additional context to his previous statement two weeks ago. Evanina's statement highlights some of the serious and ongoing threats to our election," Rubio and Warner wrote in a joint statement released Friday.
China
The report notes that U.S. intelligence has determined that China does not want to see President Donald Trump win another term and is seeking to influence American policies and counter what it views as criticism of the country's government.
"China has been expanding its influence efforts ahead of November 2020 to shape the policy environment in the United States, pressure political figures it views as opposed to China's interests and deflect and counter criticism of China," the report notes.
The back-and-forth between the Trump administration and China has played out over the last several days. On Thursday, Trump signed two executive orders to ban Chinese-owned social media apps TikTok and WeChat from the U.S. within 45 days. The orders appear designed to accelerate the sale of the two platforms to American firms (see: Trump Signs Executive Orders Banning TikTok, WeChat).
Hitting back on the new order, China's foreign ministry on Friday said that it firmly opposed the move and called it a "political manipulation," according to Reuters.
Russia
The intelligence report offers the most details about Russia and its desire to manipulate the U.S. presidential election. The country is working to undermine presumptive Democratic nominee and former Vice President, Joe Biden, the report states.
U.S. intelligence finds that Russia is seeking to undermine Biden's campaign because he criticized Moscow during his tenure in the Obama administration and supported opposition to Russian President Vladimir Putin.
To help undermine Biden, Russia is using proxies and leaked documents as well as social media and disinformation, according to the report.
"For example, pro-Russia Ukrainian parliamentarian Andriy Derkach is spreading claims about corruption - including through publicizing leaked phone calls - to undermine former vice president Biden's candidacy and the Democratic Party. Some Kremlin-linked actors are also seeking to boost President Trump's candidacy on social media and Russian television," according to the report.
Iran
On Iran, Evanina's report notes the country is focused on undermining U.S. democratic institutions as well as the Trump administration, which Iran sees as a threat to its geopolitical interests.
"Trump's re-election would result in a continuation of U.S. pressure on Iran in an effort to foment regime change," Evanina notes. "Iran's efforts along these lines probably will focus on on-line influence, such as spreading disinformation on social media and recirculating anti-U.S. content."
Ongoing Concerns
Since the 2016 elections, U.S. lawmakers and security researchers have warned about foreign interference in American elections and how nation-states might seek to manipulate this year's presidential contest.
In June, for example, Google's Threat Analysis Group published an investigation that found a hacking group linked to the Chinese government attempted to phish Biden's campaign staff, while an Iranian-backed hacking group targeted Trump's re-election offices (see: Google: Phishing Attacks Targeted Trump, Biden Campaigns).
During the Black Hat 2020 conference, security researcher Matt Blaze released a study and spoke about how voting equipment in the U.S. is still riddled with security flaws that opportunistic foreign adversaries could use to pose a threat to the November election (see: Election Security: A Harsh Assessment).
Brandon Hoffman, the CISO of security firm Netenrich, which is based in San Jose, believes that nation-states will likely use social media and other platforms to spread disinformation from now through November.
"The number one way foreign powers will influence this election is through widespread disinformation campaigns," Hoffman tells Information Security Media Group. "It is likely the majority of the campaigns will come from platforms that don't have, or don't require, strict vetting of source material. Platforms, such as video sharing sites and social media, will be hotbeds for disinformation campaigns."
Managing Editor Scott Ferguson contributed to this report.