Blockchain & Cryptocurrency , Cybercrime , Fraud Management & Cybercrime
US DOJ: Global Darknet Sting Nabs 150 Suspects
'Operation DarkHunTOR' Seizes Millions in Cash & Crypto, Plus Drugs, Guns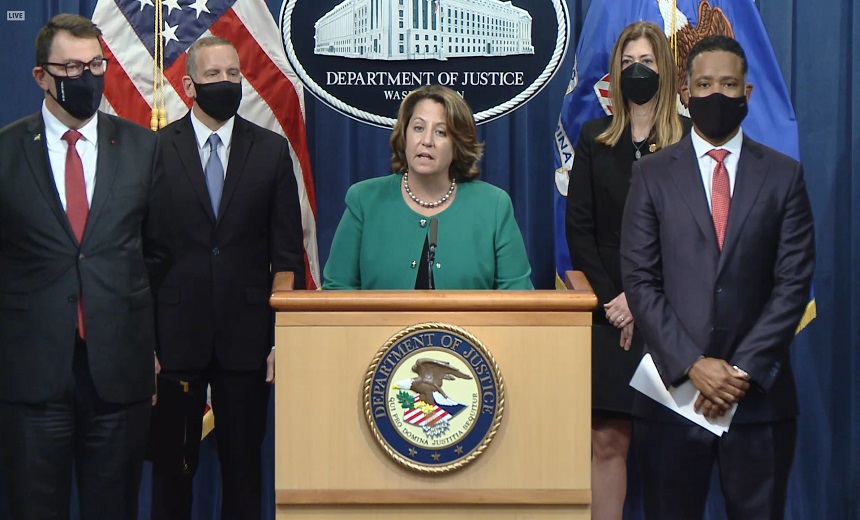 International law enforcement officials on Tuesday announced that some 150 suspects have been arrested globally for buying or selling illegal goods, following a 10-month sting operation targeting the dark web.
See Also: Live Webinar Tomorrow | Cyber Resilience: Recovering from a Ransomware Attack
The sting, code name "Operation DarkHunTOR," recovered nearly $32 million in both cash and cryptocurrency, along with 45 guns and 515 pounds of drugs, according to the U.S. Department of Justice, which hosted a press conference on Tuesday. The confiscated drugs, officials said, included enough fentanyl for 4 million lethal doses.
Countries involved in the sting include Australia, Bulgaria, France, Germany, Italy, the Netherlands, Switzerland, the U.K. and the U.S.
Officials confirm it follows a German-led operation in 2021 that took down "DarkMarket," believed to be the world's largest darknet marketplace where drugs, counterfeit money, stolen data, anonymous SIM cards and malware were peddled (see: Massive DarkMarket Underground Marketplace Taken Down).
According to U.S. Deputy Attorney General Lisa Monaco, 65 suspects have been arrested in the U.S. Forty-seven have been arrested in Germany, plus 24 in the U.K., four in Italy and four in the Netherlands, among others, officials confirmed.
Speaking at the press conference Tuesday, Europol Deputy Executive Director Jean-Philippe Lecouffe called a number of the arrests "high-value targets." Some 25,000 ecstasy pills were also confiscated.
According to U.S. Assistant Attorney General Kenneth A. Polite, Jr., of the Criminal Division, the DOJ's Office of International Affairs is actively "engaged in the effort of extraditing a number of the defendants in these cases. We have a number of partners from our European and Australian counterparts who are assisting in that effort as well. That is an ongoing process."
In Italy, related law enforcement actions also shut down darknet marketplaces dubbed "DeepSea" and "Berlusconi," each of which marketed illegal products, Europol said Tuesday.
Layers of Anonymity
Monaco said Tuesday the operation "exposes those who seek the shadows of the internet to peddle killer pills worldwide," and thanked an "unprecedented," 12-agency international law enforcement operation known as J-CODE.
J-CODE, or Joint Criminal Opioid Darknet Enforcement, which was first announced in 2018 by then-U.S. Attorney General Jeff Sessions, empowers the FBI and global partners to target borderless, illegal opioid distribution conducted online - particularly those peddled across the Tor anonymity network.
On Tuesday, Monaco thanked German law enforcement partners who conducted the DarkMarket operation earlier this year, noting the U.S. and the broader coalition were then "armed with intelligence." DarkHunTOR was launched as a result, she said, "with one clear goal - to hunt down the vendors, the buyers and the suppliers who had been hiding on that site, to make sure that they did not find a new platform."
Monaco added that darknet drug revenue has now surpassed pre-pandemic levels, with sales of fake pills - including pills laced with deadly fentanyl and methamphetamine - occurring prominently on social media platforms.
"Operation DarkHunTOR went after the illicit drug distributors who use the darknet to traffic these illicit drugs and items like pill presses," Monaco said. "We saw darknet drug vendors running laboratories at home, creating fake pills with pill presses - pills styled to look like OxyContin, Xanax or Adderall, but which are actually laced with fentanyl, methamphetamine or potentially fatal doses of other products."
According to the deputy attorney general, U.S. officials seized over 200,000 pills - 90% of which were found to contain counterfeit opioids or other narcotics.
Monaco said: "I want to address those who remain on the darknet, who are peddling illegal drugs and thinking they are safe behind layers of digital anonymity. My message to you is simple: There is no dark internet. We can and we will shine a light.
"The agencies you see here, and the thousands of law enforcement professionals that they represent, will bring to bear all of their resources to protect our citizens and to hold you accountable."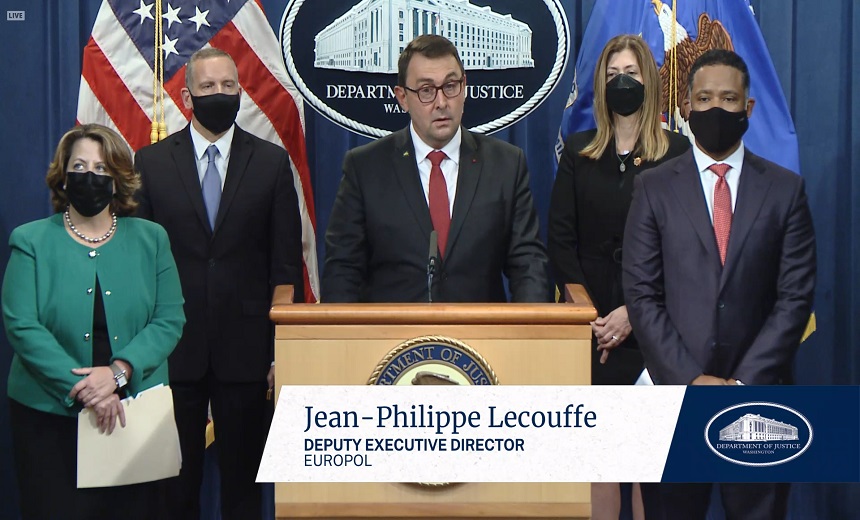 Europol Deputy Executive Director Jean-Philippe Lecouffe, who appeared beside U.S. officials Tuesday (Source: U.S. Department of Justice)
More Arrests Expected
Europol's Lecouffe said, "Tor was created for privacy protection, but it is clearly misused by criminals. … We are sending a strong message to these criminals on the dark web. No one is [out] of reach. … More arrests are to be expected."
Assistant Attorney General Polite added that DarkHunTOR "stands as our most recent victory in the global fight against cyber-enabled drug trafficking."
"This is a global threat," he said, "and it requires a global response. Our communities now face the constant threat of relatively easy access to dangerous, illicit drugs now being peddled not on a street corner, but in cyberspace."
FBI Deputy Director Paul Abbate said Tuesday, "J-CODE has been relentless in finding and arresting drug dealers around the world who falsely believe they can evade justice by operating on the darknet. … I want to thank all the partner agencies represented here and around the world who have been part of this highly collaborative joint effort. Preventing the use of the darknet for illicit trade requires a global interagency, interconnected response.
"The FBI, the Department of Justice, J-CODE, Europol and other international law enforcement partners will continue to use all investigative resources and means to identify darknet online narcotics dealers wherever they attempt to hide, to ensure that they are held accountable under the law, and that justice is served."
"The long arm of the law is present and consistent," Monaco declared, in response to questions from the press. "We won't rest until we do get folks who we have identified and who are responsible for this activity. And we will use all the means that we have, including our extradition authorities, to bring them here to justice."