U.S. Asks China to Probe, Stop Cyber-Intrusions
Administration Seeks Constructive Dialogue on Cybersecurity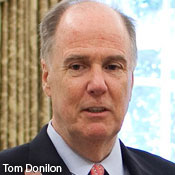 The Obama administration is calling on the Chinese government to take serious steps to halt cyber-intrusions emanating from China that have resulted in the theft of intellectual property from American companies.
See Also: 57 Tips to Secure Your Organization
White House National Security Adviser Tom Donilon, in a speech delivered to the Asia Society on March 11, said the Obama administration is calling on the Chinese government to address three matters regarding cyberspace security:
Recognize the urgency and scope of the cyber-theft of intellectual property and the risk it poses to international trade, to the reputation of Chinese industry and to overall U.S.-Chinese relations;
Take serious steps to investigate and put a stop to these activities;
Engage with the United States in a constructive direct dialogue to establish acceptable norms of behavior in cyberspace.
"From the President on down, this has become a key point of concern and discussion with China at all levels of our governments," Donilon said. "And it will continue to be. The United States will do all it must to protect our national networks, critical infrastructure and our valuable public and private sector property."
Elevated Rhetoric
Donilon, in his speech on Monday, notched up the rhetoric, pointedly stating the attacks on American businesses have originated from China. "Increasingly, U.S. businesses are speaking out about their serious concerns about sophisticated, targeted theft of confidential business information and proprietary technologies through cyber-intrusions emanating from China on an unprecedented scale."
On Feb. 28, speaking at RSA Conference 2013 in San Francisco, White House Cybersecurity Coordinator Michael Daniel said diplomacy will play a key role in trying to stop cyber-attacks against American economic interests originating from overseas. But he did not specifically cite China as a place where these intrusions originate [Using Diplomacy to Stop Cyber-Attacks].
Similarly, in his State of the Union address on Feb 12, President Obama said the United States will take action to protect against cyber-threats [see Obama Issues Cybersecurity Executive Order], but did not specifically mention China by name. And, at a Feb. 19 briefing, White House Press Secretary Jay Carney said the administration has raised cybertheft to Chinese officials. "I can tell you that we have repeatedly raised our concerns at the highest levels about cybertheft with senior Chinese officials, including in the military, and we will continue to do so," Carney said [see Public's New Perception of Cyberthreat].
Carney's remarks came a day after IT security provider Mandiant issued a report that details how a unit of China's army has hacked into Western businesses to steal trade and other corporate secrets [see 6 Types of Data Chinese Hackers Pilfer].
Building a Constructive, Bilateral Relationship on Cyber
With the Mandiant findings still echoing, Donilon said the international community cannot afford to tolerate such activity from any country. Yet, he acknowledged that China also can be victimized in cyberspace. "Both countries face risks when it comes to protecting personal data and communications, financial transactions, critical infrastructure or the intellectual property and trade secrets that are so vital to innovation and economic growth," he said.
"We have worked hard to build a constructive bilateral relationship that allows us to engage forthrightly on priority issues of concern," Donilon said. "And the United States and China, the world's two largest economies, both dependent on the Internet, must lead the way in addressing this problem."