UK Follows Obama Lead on Cybersecurity
Britain to Establish National Cybersecurity Center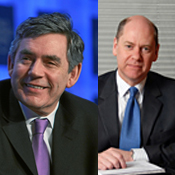 The British government is creating a cybersecurity organization similar to the one proposed by President Obama, British media reported on Monday.

The national cybersecurity center to combat growing threats of criminal gangs and foreign states hacking into Whitehall - the British government's administrative headquarters - and big business is to be reported this month by Prime Minister Gordon Brown (pictured, at left) and be headed by a cybersecurity czar similar to the one Obama is establishing in the White House, according to the website of The Guardian newspaper.

Britain has been holding talks with the United States and Canada to co-ordinate operations against cyber attacks by foreign powers and terrorists. The paper reports the initiative is being developed in parallel to the Americans and follows a warning of the need to tackle the threat from Jonathan Evans (pictured, at right), head of MI5, counter-intelligence and security agency.

According to the report, British interest in taking high-level action against cyber crime follows revelations exposing the holes in U.S. online security and fears from the Canadians that their systems could be compromised.

"Like the US," the Guardian reports, "where competing agencies tackle cyber crime, Britain has different organizations fighting the threat, from the Serious Organized Crime Agency to the Metropolitan police's e-crime unit."

The Critical National Infrastructure - the name for key computer systems protecting communications, water and energy networks, emergency services and public safety - relies on voluntary compliance to protect itself from cyber attacks and is mainly run by big corporations.

"The government's decision amounts to a U-turn in its policy to tackle cyber crime which until now has been run by a shadowy group attached to the security services and deliberately kept low-profile," the Guardian reported. "Now it will be run by a high-profile body with the Cabinet Office coordinating operations across the whole of Whitehall."