Enterprise Mobility Management / BYOD
Tsunami of Insecurity: Safeguarding Mobile Devices
Rapid Growth In Mobility Creates Security Challenge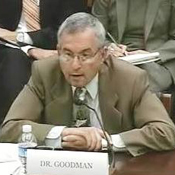 Think securing traditional IT systems is a challenge? You've seen nothing yet.

Seymour Goodman, a professor of international affairs and computing at the Georgia Institute of Technology, forecasts "a coming tsunami of insecurity" caused by the rapid spread of cellular telephones and other mobile devices with substantial computing capabilities.

Testifying before the House Committee on Science and Technology's Subcommittee on Research and Science Education Subcommittee on Wednesday, Goodman sees computers with wireless connections as likely furnishing unprecedented opportunities for criminals, hackers, terrorists, industrial spies, foreign intelligence agencies and other unsavory actors.

The professor cites statistics showing that some 3.5 billion people use cell phones worldwide, and vastly outnumber traditional Internet users, especially in developing nations. Indeed, he says, cell phone use is growing faster than Internet use; in the next five to 10 years, most earthlings will use potent mobile devices for personal use and at work, likely supplanting desktop and laptops as the primary way to access a extensively larger Internet.

Why is growth itself a threat? Goodman surmises that sheer numbers will produce more potential malicious actors and prospective victims. Not only will forms of attack now used against desktops and laptops port over to mobile devices, he says, but many vulnerabilities specific to mobile devices will arise, such as battery limitation, use of airwaves instead of wires and new, attractive target applications including digital wallets and pocket automated teller machines.

Even though batteries have become more powerful, Goodman contends that mobile device manufacturers have shown reluctance to employ any of that extra power to run security applications.

To confront this worldwide challenge, he says research and development will require collaboration of experts from multiple disciplines and depend on private-sector and international cooperation to ensure effective and widespread implementation.

Goodman wonders if the government and society as a whole will learn from past faults. "We have lots of experience and mistakes with the Internet," Goodman says. "This time, will we be able to get ahead of the problem and make the world of mobile cyberspace safer and more secure before the tsunami forms, builds momentum, and hits us?"