Cyberwarfare / Nation-State Attacks , Endpoint Security , Fraud Management & Cybercrime
Trump Signs Executive Orders Banning TikTok, WeChat
Social Media Platform Ban Will Go Into Effect Within 45 Days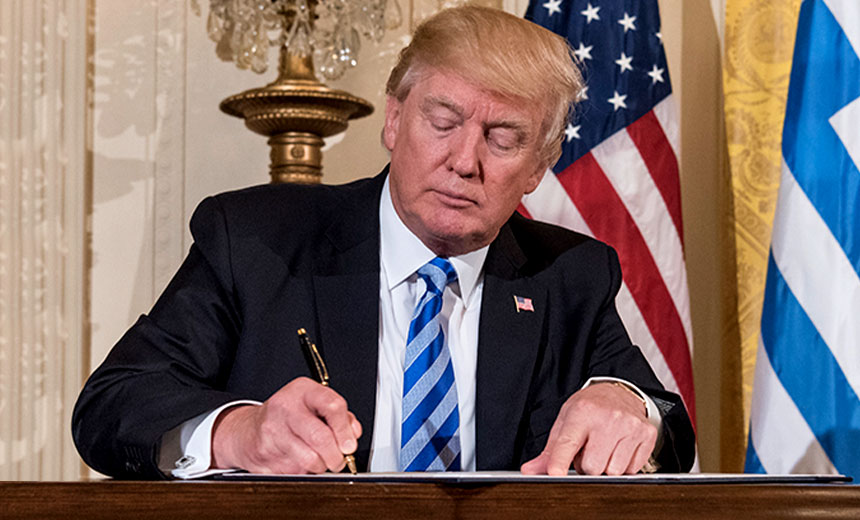 President Donald Trump signed two executive orders Thursday that will ban Chinese-owned social media apps TikTok and WeChat within 45 days. The orders appear designed to accelerate the sale of the two platforms to American firms.
See Also: Live Webinar | Generative AI: Myths, Realities and Practical Use Cases
The two executive orders, which use similar language, cite concerns over national security for banning the two social media apps within the U.S. In the orders, Trump notes that TikTok and WeChat collect data on their users and that the Chinese government could then access information on American citizens.
"The spread of mobile applications developed and owned by companies in the People's Republic of China continues to threaten the national security, foreign policy and economy of the United States," according to Trump's executive orders.
The move to ban the two apps appears designed to accelerate the sale of the two platforms to American firms within the 45-day period. This would allow the two apps to continue to operate within the U.S., according to The New York Times.
It's not clear if a U.S. company is interested in buying WeChat, but Microsoft has been involved in ongoing negotiations to buy at least a portion of the TikTok platform from its owner, Beijing-based ByteDance. Trump has insisted on a sale of TikTok, citing national security and data privacy concerns (see: Microsoft May Be TikTok's Privacy and Security Lifeline).
Banning Apps
CNN reports that it's not clear how the ban would work, or if the owners of TikTok and WeChat could take legal action to stop the carrying out of the executive orders.
Trump's executive orders note that after 45 days, U.S. citizens and businesses would be barred from conducting transactions with WeChat or TikTok. The U.S. Commerce Department would then enforce these new rules.
On Friday, the owners of TikTok and WeChat fired back at the two executive orders. In a statement, TikTok noted that it would seek legal action to stop enforcement.
"We are shocked by the recent executive order, which was issued without any due process. For nearly a year, we have sought to engage with the US government in good faith to provide a constructive solution to the concerns that have been expressed," a TikTok spokesperson says. "What we encountered instead was that the administration paid no attention to facts, dictated terms of an agreement without going through standard legal processes and tried to insert itself into negotiations between private businesses."
A spokesperson for WeChat told CNN that the company is "reviewing the executive order to get a full understanding."
Explosive Growth and Scrutiny
Over the past several years, both TikTok and WeChat have exploded in popularity, especially with younger users. For instance, Trump's executive order notes that TikTok, a mobile social media app that allows their users to create brief, shareable videos, has reportedly been downloaded over 175 million times in the U.S. and over a billion times globally.
WeChat, a messaging, social media, and electronic payment application owned by the Chinese company Tencent Holdings, reportedly has over 1 billion users worldwide, including in the U.S., according to the executive order.
That increase in popularity has come with scrutiny about how apps from China-based firms capture and retain its users' data and if that poses a threat to U.S. national security, especially if the Chinese government can access the data stored by companies.
"The data collection by the app threatens to allow the Chinese Communist Party access to American's personal and proprietary information - potentially allowing China to track the locations of federal employees and contractors, build dossiers of personal information for blackmail and conduct corporate espionage," the executive order notes.
In addition, Trump's executive orders note that the applications can capture the personal and proprietary information of Chinese nationals visiting the U.S., which can allow the Chinese government to keep tabs on its own citizens.
Much like companies such as Google, Amazon or Facebook, TikTok collects data about its users. The company's privacy policy notes that the app can capture information about IP addresses, geolocation data, unique device identifiers, browsing and search histories and cookies.
TikTok, like other companies that collect user data, has also started publishing regular transparency reports to show how data is used and whether law enforcement is requesting information as part of an investigation.
Other Actions
Even before Trump's executive order, parts of the federal government have banned employees and workers from downloading TikTok on their government-owned mobile devices. In January, the U.S. Army joined the Navy in banning the social media app (see: US Army Follows Navy in Banning TikTok App: Report).
The executive order concerning TikTok also notes that the U.S. Department of Homeland Security and Transportation Security Administration have also banned the app from devices.
On the same day that Trump signed his executive orders, the U.S. Senate passed a bill that would totally ban TikTok from federally owned devices, according to a report in The Hill. The House passed a similar legislation earlier this year.
U.S. businesses have also grown concerned about the use of TikTok on company-owned devices. In July, Wells Fargo, the fourth largest bank in the U.S., asked employees to remove the app from company-owned smartphones and tablets (see: Wells Fargo Bans TikTok App on Company Devices).