Cyberwarfare / Nation-State Attacks , Fraud Management & Cybercrime , Governance & Risk Management
Trump Orders TikTok Owner to Divest US Operations
Executive Order, Citing National Security, and Gives 90 Days to Divest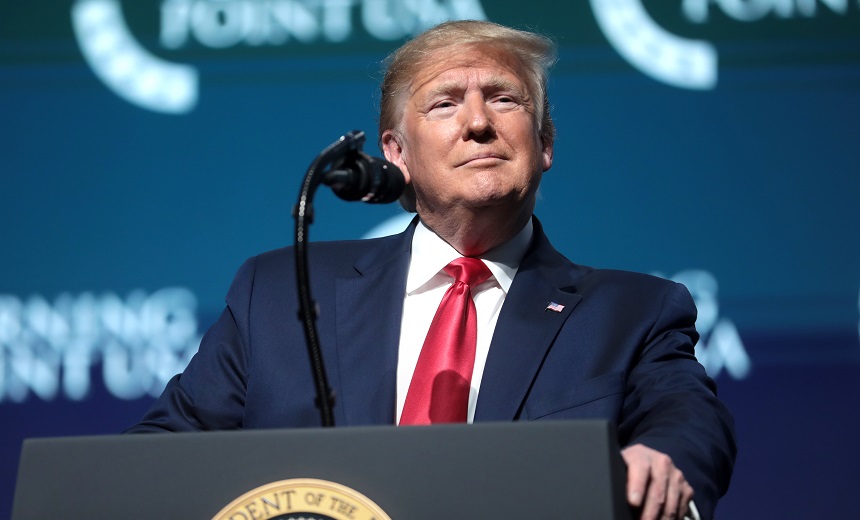 President Donald Trump signed a new executive order late Friday that demands TikTok owner ByteDance divest its U.S. operations within 90 days.
See Also: Live Webinar | Breaking Down Security Challenges so Your Day Doesn't Start at 3pm
In signing a new executive order regarding the Chinese-owned social media company, Trump cited national security concerns as well as the data that TikTok collects on U.S. citizens.
In 2018, ByteDance acquired Musical.ly, a music and lip-syncing application, and combined that app with its TikTok operations, which gave the company a presence in the U.S. Trump's executive order would force the company to sell its American business within 90 days.
"There is credible evidence that leads me to believe that ByteDance Ltd … might take action that threatens to impair the national security of the United States," according to the executive order signed by Trump on Friday.
Previously, Trump ordered that ByteDance sell TikTok to a U.S. company and gave the Chinese firm 45 days to find a buyer before the app would be banned in the U.S.. The new order signed Friday would give ByteDance additional time to sell its U.S. operations (see: Trump Signs Executive Orders Banning TikTok, WeChat).
In addition to divesting its U.S. operations, the executive order would require ByteDance to destroy all its copies of TikTok data it has collected on U.S. users of the social media app (see: The Debate Over Trump 'Ban' of TikTok, WeChat).
In a separate statement, U.S. Treasury Secretary Steven Mnuchin reaffirmed the executive order, noting that the Committee on Foreign Investment in the United States had conducted an exhaustive review of ByteDance and its ownership of TikTok and found that its collection of personal data could harm American citizens.
"Today, the president issued an order prohibiting the transaction that resulted in the acquisition of Musical.ly, now known as TikTok, by the Chinese company ByteDance," Mnuchin, who chairs the CFIUS, noted. "The order directs ByteDance to divest all interests and rights in any assets or property used to enable or support the operation of TikTok in the United States and any data obtained or derived from TikTok or Musical.ly users in the United States."
TikTok Responds
When Trump issued his first executives order concerning TikTok, the company noted that it would take legal action against the White House to stop the sale of the company.
ByteDance and TikTok did not immediately respond to Information Security Media Group's request for comment, but a spokesperson told CNBC: "As we've said previously, TikTok is loved by 100 million Americans because it is a home for entertainment, self-expression and connection. We're committed to continuing to bring joy to families and meaningful careers to those who create on our platform for many years to come."
While ByteDance has signaled that it would push back against the executive order, some U.S. companies have expressed interest in buying the company's U.S. operations. Microsoft has announced that it remains interested in making a deal (see: Microsoft May Be TikTok's Privacy and Security Lifeline).
Concerns Over Data Collection
Since Trump signed his first executive orders concerning TikTok and another Chinese social media company called WeChat earlier this month, the administration has argued that these apps collect too much information on U.S. citizens that could be used by China's government to spy on Americans.
John Demers, assistant attorney general for national security with the U.S. Justice Department, recently noted that the TikTok and WeChat apps raise concerns because millions of Americans are voluntarily handing over their data to the apps' Chinese owners (see: DOJ Official Spells Out Concerns About TikTok, WeChat).
"What's interesting about TikTok is you have one of the first instances in which individuals are signing up and providing the app with their sensitive personal data," Demers told that audience, adding that China could use the country's laws to then examine that data and use it for espionage.
In addition to the Trump administration, some members of Congress are raising new concerns about TikTok as well.
On Thursday, Republican senators Jerry Moran of Kansas and John Thune of South Dakota sent a letter to the Federal Trade Commission asking the agency to investigate how the app collects data, according to The Hill.
The letter from the two senators came after the Wall Street Journal reported this week that TikTok collected user data through MAC addresses in violation of the rules regarding Google's Android mobile operating system. A company spokesperson told the Journal its newer version does not collect MAC addresses from users.
Managing Editor Scott Ferguson contributed to this report.