Symantec CEO Coup: What Next?
New Focus on Mobility, Divestiture Could Result from Shakeup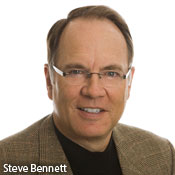 The shakeup in the chief executive suite at Symantec could signal a new look for the information security software provider, including the possibility of spinning off or selling some of its business units.
See Also: Live Webinar | Navigating the Difficulties of Patching OT
Symantec, best known for its Norton computer security products, revealed July 25 that Board Chairman Steve Bennett also assumed the posts of chief executive officer and president, replacing Enrique Salem, a veteran Symantec executive who headed the company since April 2009. Before joining Symantec, Bennett served as CEO at financial software provider Intuit from 2000 to 2007; previously, he spent 23 years at General Electric, where he managed a number of organizations.
Bennett, who joined Symantec's board in February 2010 and elevated to its chairmanship last year, says he'll spend the next 90 to 120 days talking to employees, customers and stakeholders "to make sure that we have the right strategy to lead the security market in the future."
The Symantec board fired Salem because the stock price underperformed expectations, though Bennett was not that explicit in explaining the change in leadership during an analysts briefing. "While progress has been made over the last three years in many areas, it was the board's judgment that it was in the best interests of Symantec to make a change in the CEO," he says. "My view is that Symantec's assets are strong and yet the company is underperforming against the opportunity."
Lagging Stock Price
Symantec's stock price, which closed July 26 at $15.35 a share, is down 19.5 percent from a year ago and 22.3 percent from five years ago. As a comparison, the Nasdaq index is up nearly 1.9 percent from a year ago and 11.3 percent from five years ago. "Enrique has not delivered the level of performance that shareholders and the board want," says Chenxi Wang, who follows Symantec as an analyst and vice president at the IT advisory firm Forrester. "It is as simple as that."
Robert Breza, an analyst at the investment bank RBC Capital Markets, says incremental changes won't improve the stock price. "Drastic changes are needed to revalue the shares," he says. "The stock is at a massive discount when you look at a breakup analysis."
What those drastic changes will be, no one is providing specifics. Wang suggests Symantec could divest businesses such as its Veritas storage offering. "Enrique has made a few controversial decisions like holding on to Veritas; many think Symantec should sell that business off," she says.
Focus on Mobility
Bennett sees mobility as a priority for Symantec going forward. "Our goal is to lead in the future mobile interconnected world like we did on the desktop PC world," the new CEO says.
But Symantec has been slow to innovate in mobile security. "Many CIOs and CISOs have told me that when they look for solutions to enable and secure computerization initiatives such as BYOD (bring your own device), Symantec isn't someone they'd go to," she says. "Mobile device/application management has been a really hot area for a while before Symantec made any move in that area. I think there are opportunities lost in various cutting edge areas."
Replacing Salem, a protégé of the legendary former Symantec CEO John Thompson, could trouble some company customers and employees. "Enrique did a good job at improving support and product quality, but that just didn't translate into more sales," says Peter Firstbrook, a vice president at IT adviser Gartner Group. "Disruptions to satisfy Wall Street don't usually help customer satisfaction."
And, if Symantec reorganizes, Bennett might be better equipped than Salem to lead those efforts. "His experience at GE is the main selling point," Firstbrook says. "GE is known to be ruthless on nonperforming assets and people."
Breza concurs. "Enrique came up under the John Thompson regime," he says. "Enrique likely worked with a lot of the people who he needed to fire and wouldn't. Steve, for the most part, is an outsider who should be able to remain objective."