Cyberwarfare / Nation-State Attacks , Fraud Management & Cybercrime , Fraud Risk Management
State Department Plans to Create Cybersecurity Office
But Will the Move Be Carried Out Under Biden Administration?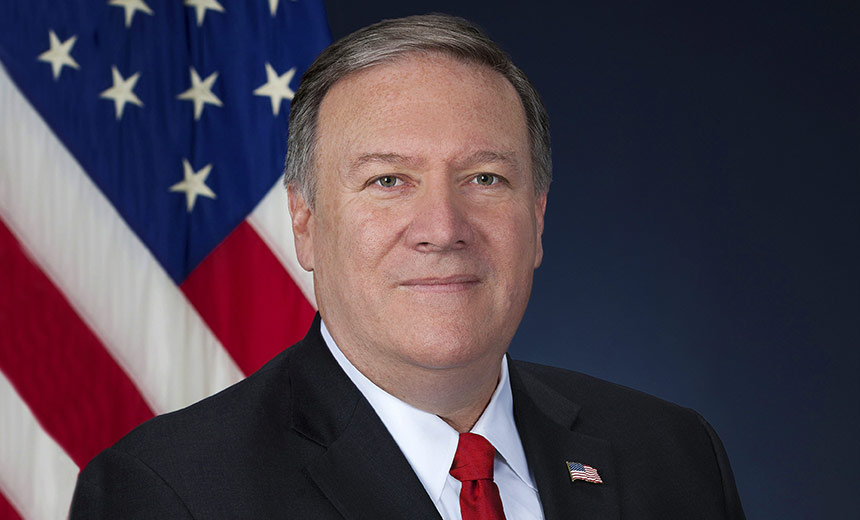 The U.S. Department of State has announced plans to create a Bureau of Cyberspace Security and Emerging Technologies to enhance its security and help it deal with international cybersecurity issues. But it remains to be seen if those plans will be carried out by the incoming Biden administration, which has announced other cybersecurity steps.
See Also: Now OnDemand | C-Suite Round-up: Connecting the Dots Between OT and Identity
Secretary of State Mike Pompeo announced Thursday that he has directed the State Department to create the bureau. The unit was originally proposed in 2018 to lead U.S. government diplomatic efforts on a wide range of international cybersecurity and emerging technology policy issues.
"The need to reorganize and resource America's cyberspace and emerging technology security diplomacy through the creation of CSET is critical, as the challenges to U.S. national security presented by China, Russia, Iran, North Korea and other cyber and emerging technology competitors and adversaries have only increased since the department notified Congress in June 2019 of its intent to create CSET," Pompeo said in a statement.
But former State Department Cyber Coordinator Chris Painter called Pompeo's move "laughable." Painter was removed from his position when former Secretary of State Rex Tillerson shut down the cyber coordinator's office in 2017. Painter now serves as president of the Global Forum on Cyber Expertise.
"At this point, the new administration should decide how best to structure this issue and where it should be placed. Both Solarium Comm [Cyberspace Solarium Commission] & Cyber Diplomacy Act called for a broader and more integrated scope and a higher level in the Department," Painter tweeted Thursday.
Laughable that this is done @ the 11th hr when this was not adequately resourced or prioritized for 4 yrs. Also, this formulation only preserves stovepipes rather than coordination. Pomper Approves New Cyberspace Security and Emerging Technologies Bureau - https://t.co/Xi5b1k1QXL

— Chris Painter (@C_Painter) January 7, 2021
CSET's Road To Approval
Tillerson raised the idea of creating CSET in February 2018 after he shut down the Office of the Coordinator for Cyber Issues the previous year. Pompeo reintroduced the concept of creating CSET in June 2019. At that time, CSET was proposed to have about 80 staffers and a budget of $20.8 million, according to Cyberscoop.
In September 2020, the Government Accountability Office reviewed the bureau creation proposal and recommended the State Department bring in other federal agencies that contribute to cyber diplomacy in planning its new bureau.
"Without involving and communicating with agency partners on its reorganization plan, State lacks assurance that it will effectively achieve its goals for establishing CSET, and it increases the risk of negative effects from unnecessary fragmentation, overlap and duplication of cyber diplomacy efforts," the federal watchdog report stated.
Biden's Actions
It's not yet clear whether the incoming Biden administration will carry out the bureau rollout.
Politico - citing sources - reports that President-elect Joe Biden will appoint National Security Agency's cybersecurity director Anne Neuberger to take over a newly created cybersecurity role that will be established within the National Security Council.
Neuberger reportedly will be responsible for coordinating the federal government's cybersecurity efforts, with an initial focus on the SolarWinds breach (see: SolarWinds Hires Chris Krebs to Reboot Its Cybersecurity). Biden called the SolarWinds hack a "grave risk for national security."
The Biden administration will also need to address the cybersecurity implications from rioters entering the Capitol Building on Wednesday, where some devices were stolen and others were potentially exposed.