Social Nets Banned on Marine Network
Marines: Exposes Unnecessary Information to Adversaries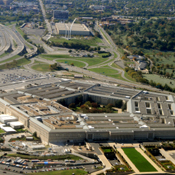 The Marine Corps isn't waiting for the Defense Department to conclude its review of the safety of using social networks from military networks. The Marines, in a message issued this week, immediately banned access from the Marine Corps Enterprise Network, or MCEN, to social networks such as Facebook, MySpace and Twitter.

"These Internet sites in general are a proven haven for malicious actors and content and are particularly high risk due to information exposure, user generated content and targeting by adversaries," the message said. "The very nature of SNS (social networks) creates a larger attack and exploitation window, exposes unnecessary information to adversaries and provides an easy conduit for information leakage that puts OPSEC (operations security), COMSEC (communications security), personnel and the MCEN at an elevated risk of compromise."

Waivers can be issued for cause.

Marine Corps enlistees, officers and its civilian contractors and employees can access from MCEN Defense Department-sponsored social networks inside the military's global information grid that are configured in accordance with Defense Information Systems Agency security technical implementation guidelines.

Deputy Defense Secretary William Lynn has ordered a review of the threats and benefits of using emerging Internet capabilities, which the military has widely used for recruiting, public relations and sharing information with allies and military families, officials told the Associated Press. In a memo, Lynn pointed out that Web 2.0 technologies have emerged as a crucial tool in the daily operation of the Defense Department. "However, as with any Internet-based capabilities, there are implementation challenges and operations risks that must be understood and mitigated," Lynn said in a memo issued Friday.

Lynn said the report would be completed by month's end and that the Defense Department will issue a policy by the end of September.