Blockchain & Cryptocurrency , Cryptocurrency Fraud , Fraud Management & Cybercrime
Senators Urge Treasury Department to Address Crypto Brokers
Group Says It's Ready to Write Legislation; Senate Also Hosts Stablecoin Hearing
A bipartisan group of six U.S. senators this week sent a letter to the Department of the Treasury regarding new cryptocurrency regulation stemming from the Infrastructure Investment and Jobs Act, passed Nov. 15. The lawmakers urge Treasury Secretary Janet Yellen to address investor concerns around the law, which controversially requires a broad group of crypto professionals to report information for tax collection.
See Also: Live Webinar | Generative AI: Myths, Realities and Practical Use Cases
The senators say the provision could stifle innovation at a time when clear guidance is necessary in the space, particularly as the executive branch zeroes in on illicit finance concerns. The letter was penned by Sens. Rob Portman, R-Ohio; Mike Crapo, R-Idaho; Pat Toomey, R-Penn.; Cynthia Lummis, R-Wyo.; Kyrsten Sinema, D-Ariz.; and Mark Warner, D-Va., who indicate that they are prepared to push additional legislation that narrows the reporting scope.
While the new law, they say, standardizes information reporting to the Internal Revenue Service, "some market participants have expressed concern that an overly broad interpretation" of the word "broker" could capture individuals who are "solely involved with validating distributed ledger transactions through mining, staking, or other methods, and entities solely providing software or hardware solutions enabling users to maintain custody of their own digital asset wallets."
The senators urge Yellen to "engage rulemaking … in an expeditious manner" and "provide information or informal guidance as soon as possible - no later than the end of the current calendar year - regarding the definition of 'broker.'"
Michael Fasanello, who has served in various roles within the U.S. Justice and Treasury departments, including for Treasury's Financial Crimes Enforcement Network, or FinCEN, says, "The senators' joint request … is precisely what was needed to reinforce that the bill, as written, was not what was intended by lawmakers who actually understand this technology and its significance for the future of finance."
Illicit Finance Fears
Cryptocurrencies, which by nature offer levels of anonymity for financial transactions, have remained a primary issue for elected officials and regulators throughout 2021, with Securities and Exchange Commission Chair Gary Gensler previously calling the asset class "rife with fraud, scams and abuse." Other tools increasingly used for obfuscation - including crypto mixers and tumblers - have also dominated political discourse, for instance as law enforcement officials target ransomware infrastructure, which relies on the exchange and off-ramping of digital currencies.
In their note to the Treasury Department, the senators touch upon those fears, writing: "Digital assets could be impactful technological developments in certain sectors, and clear guidelines on tax reporting requirements will be important to those in this ecosystem. It will be important that we continue to work to provide further clarity … while ensuring that this technology does not become a vector for illicit finance, tax evasion, or other criminal activity."
And Fasanello, who is currently the director of training and regulatory affairs for the firm Blockchain Intelligence Group, says, "Without further clarification and guidance, innovation in the blockchain and crypto space would suffer from an exit of critical parties, a 'brain drain,' based on an unacceptable level of liability for failing to comply with reporting requirements that those parties in fact have no ability to comply with.
"Unclear tax rules further muddy the waters, with market participants unsure of if, how, or when to report their transactions and holdings, as well as illicit actors exploiting gaps to further their criminal exploits."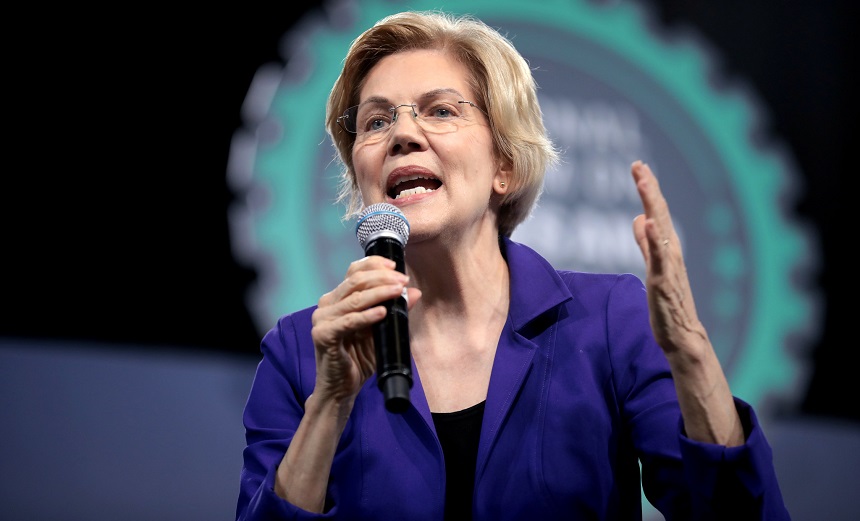 Sen. Elizabeth Warren, D-Mass. (Photo: Gage Skidmore via Flickr)
Senate Hearing on Stablecoin Risks
Elsewhere in the cryptocurrency space, the Senate Committee on Banking, Housing, and Urban Affairs this week held a hearing on risks related to stablecoins - or cryptocurrencies pegged to fiat currency. Researchers, government officials, private-sector banking executives, lawyers and others briefed Congress' upper house on potential dangers of stablecoins, including both market risks and lack of investor protections.
The GOP's Toomey, however, touted the assets as being far less volatile than other digital currencies, saying, "Stablecoins can speed up payments, especially cross-border transfers, reduce costs, including remittances, and help combat money laundering and terrorist financing through an immutable and transparent transaction record."
The ease of cross-border transfers, however, is precisely what makes cryptocurrency the go-to payment method for ransomware gangs and other threat actors, researchers at the firm Digital Shadows tell ISMG.
Committee Chairman Sherrod Brown, D-Ohio, also pointed out that the volatility of the cryptocurrency market also poses a clear risk to investors, saying market dips or crashes help make these tokens "untethered from reality."
Often, in those environments, illicit activity can take root, Democrats have warned in recent months.
In a statement released by the American Bankers Association in response to the hearing, the trade group requested appropriate federal regulation around stablecoins - including recognition of the risk to consumers.
Stablecoins, which may circumvent the regulatory architecture of the traditional banking system, pose a number of risks - including harm to consumers, the potential for "runs" on the tokens, and payment system risks, the ABA says.
Sen. Elizabeth Warren, D-Mass., an outspoken critic of crypto volatility, said during the hearing that decentralized finance, known as DeFi, which does not rely on traditional intermediaries and instead is built off peer-to-peer smart contracts, is "the most dangerous part of the crypto world," and one that relies on stablecoins.
Alexis Goldstein, a former electronic trading programmer for Morgan Stanley and director of financial policy for independent watchdog agency Open Markets Institute, stated in the hearing that DeFi is "a section of the cryptocurrency market largely out of compliance with know-your-customer, anti-money laundering, countering the financing of terrorism, and sanctions checks" (see: US Treasury Blacklists Cryptocurrency Exchange Chatex)
"With only a few exceptions, the platforms on DeFi are not in compliance with [these checks]. Nor does it seem that many of them are conducting a simple check to ensure that the cryptocurrency address making calls to the protocol are not on the [U.S.] sanctions list," Goldstein warned.
ISMG Staff Writer Devon Warren-Kachelein contributed to this report.