Senator: Office Computers Breached
Bill Nelson Suspects Chinese; No Classified Data Taken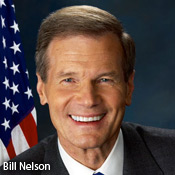 U.S. Sen. Bill Nelson says computers in his office have been hacked at least three times one of them the Florida Democrat characterized as "serious" over the past two months, and he believes the breach came from China.

Two of the attacks occurred this month and another in February, and were targeted at three Nelson staffers: a key foreign-policy aide, the deputy legislative director and a former Nelson NASA adviser. The hackers did not obtain any classified information, which isn't kept on office computers, a Nelson press statement said.

Nelson is a member of the Senate's Intelligence, Armed Services and Finance committees and chairs a Senate subcommittee that oversees NASA.

According to Nelson, similar incursions on Capitol Hill computer networks have increased significantly in the past few months. Alluding to a report by the Center for Strategic and International Studies, Nelson said "unknown foreign entities" hacked computers at the Departments of Defense, Homeland Security and Commerce as well as NASA in 2008.

"The threat to our national security, to be sure, is real; and, it will require significant investment and inter-agency coordination at an unprecedented level to gain an upper hand against would-be cyber criminals and spies," Nelson said in a statement. "These are anxious days, when you consider the threat from such espionage facing our country and recent developments on this front."