Senate Forms Privacy Subcommittee
Al Franken to Head New Panel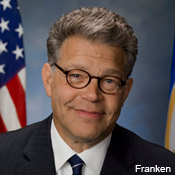 Sen. Al Franken, D-Minn., will head a new subcommittee on privacy, technology and the law, said Sen. Patrick Leahy, D-Vt., who chairs the Senate Judiciary Committee.

The new subcommittee will address:
Oversight of laws and policies governing the collection, protection, use and dissemination of commercial information by the private sector, including online behavioral advertising;
Privacy within social networking websites and other online privacy issues;
Enforcement and implementation of commercial information privacy laws and policies;
Use of technology by the private sector to protect privacy, enhance transparency and encourage innovation;
Privacy standards for the collection, retention, use and dissemination of personally identifiable commercial information; and
Privacy implications of new or emerging technologies.
Other Privacy Panel Members
Sen. Tom Coburn, R-Okla., will serve as the new panel's ranking member. Other Republican senators on the subcommittee will include Orrin Hatch of Utah and Lindsey Graham of South Carolina. Democratic senators on the new panel will be Chuck Schumer of New York, Sheldon Whitehouse of Rhode Island and Richard Blumenthal of Connecticut.

"The explosion of new technologies and activities online, including social media, has unleashed new questions about how to protect Americans' privacy in the digital age," Leahy said. "The important work of the subcommittee on privacy, technology and the law will complement the work that the full committee will continue this year."

Sen. Franken said new technologies have "put an unprecedented amount of personal information into the hands of large companies that are unknown and unaccountable to the American public. As chairman of this new subcommittee, I will try to make sure that we can reap the rewards of new technology while also protecting Americans' right to privacy."

The Judiciary Committee is scheduled to hold an executive business meeting on Feb. 17, when it's expected to approve subcommittees and rosters for the 112th Congress.