Senate Allies Split Over Cybersecurity Jurisdiction
Lieberman Dismisses McCain's Call for Select Panel on Cybersecurity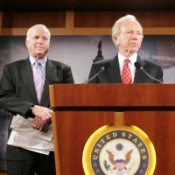 Often allies, Sens. John McCain and Joseph Lieberman find themselves at odds over how Congress should approach cybersecurity legislation.

McCain, R-Ariz., has called on Senate Majority Leader Harry Reid, D-Nev., to create a select committee to draft comprehensive cybersecurity legislation quickly without needing to work through numerous and in some cases competing committees of jurisdiction. That's an idea his friend, Sen. Joseph Lieberman of Connecticut, the Independent Democrat who crossed party lines in the last presidential election to endorse McCain over President Obama, says is wrong.

"The only way to move comprehensive cybersecurity legislation forward swiftly is to have committee chairmen and ranking members step away from preserving their own committees' jurisdiction in order to develop a bill that serves the national security needs of all Americans," McCain wrote in his letter to Reid.

In the Senate, a number of committees have claimed jurisdiction over aspects of cybersecurity, including the committee Lieberman chairs, Homeland Security and Government Affairs, as well as Commerce, Science and Transportation; Judiciary; and Armed Services. Reid had asked the chairs of the committees to work together to produce a comprehensive cybersecurity legislative package.

"I appreciate Majority Leader Reid organizing working groups to develop key sections of cybersecurity legislation, but I do not believe this structure will lead to strong, bipartisan and comprehensive legislation," McCain said. "I truly believe the only way to ensure the protection of sensitive and valuable information from tampering or dissemination by unauthorized persons is a select committee."

The idea of establishing a temporary Select Committee on Cybersecurity and Electronic Intelligence Leaks didn't sit well with Lieberman and the Homeland Security and Governmental Affairs ranking member, Sen. Susan Collins, R-Maine, who along with Sen. Tom Carper, D-Del, introduced comprehensive cybersecurity legislation in February (see Senate Bill Eyes Cybersecurity Reform).

Lieberman and Collins took exception to McCain's assertion that the Senate must provide congressional leadership on pursuing the national security issue of cybersecurity. "It would be a real mistake and a waste of time to restart the process when so much work has already been done," the Lieberman-Collins letter to Reid said.

The chair and ranking member said they have worked well with other committees to produce comprehensive cybersecurity legislation, and urged Reid to bring the measure to the Senate floor for debate and vote this year. "Partisanship and turf protection were strikingly absent from these talks," Lieberman and Collins wrote. "This truth is borne out by the final product: draft legislation that would establish clear lines of authority for securing the dot-gov and dot-com domains, and that is notably lacking in the legislative drafting oddities that usually signal a jurisdictionally driven compromise."