Security Pros: Expect a Raise in 2011
Firm Predicts 4% Hike for Key Jobs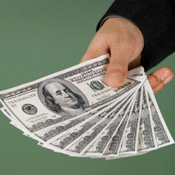 Salaries for IT security professionals will increase by an average of 4.0% in 2011, according to a new report.

Robert Half Technology has released its salary guide for 2011, listing more than 70 positions in the IT field. The guide is based on analysis drawn from thousands of job placements managed by the company across North America, as well as regular insights from chief information officers and other senior executives.

"The percentage increase in salaries for security positions is fairly nominal and higher than the average 3.4 % projected growth for IT positions," says John Reed, executive director at Robert Half Technology. "We are seeing a modest increase in salaries for security positions in 2011 as companies hire to secure and maintain confidentiality in proprietary information."

The high growth areas within security include network security and administration, application development and data security architect positions.

These jobs are increasing in demand within companies largely because of the rise of social media with a focus on customer-facing technologies, plus the client/regulatory push for secure data, Reed says.

He also foresees a steady market for professionals who are directly involved with protecting critical infrastructure, large networks and migration to technologies such as virtualization and cloud computing.

"The shortage of skilled security professionals, with demand clearly outpacing supply, is another factor leading to growth in this field," says Reed.
Salary Trends
In comparing the salary trends in recent years, the growth within information security has remained consistent with an increase of between 3-4% for most positions.

The only exception for 2011 is an extra demand for IT security skills coming from specific industries such as healthcare, where organizations are increasingly looking to hire security analysts, privacy officers and risk managers to assist with the conversion to electronic medical records.

The other in-demand job segments include positions with database skills such as SQL Server and IBM Db2, enterprise resource planning, data modeling and business intelligence, as well as SharePoint skills, where the projected growth is above 5% for 2011.
Top Jobs
Following are five top security positions that offer promising growth in 2011:
Data architects are expected to see a handsome boost in base pay in 2011, with their average starting salary rising 4.9 percent to the range of $91,750-$126,500.
Lead application developer salaries at large (more than $250 million in sales) and midsize companies are predicted to climb 4.7 percent, reflecting a compensation range of 85,000-$117,500
Data security analysts are anticipated to receive starting salary offers within the range of $84,000-$114,500, a 4.5 percent increase over last year.
Information system security managers are expected to climb 4.4 percent in the year ahead to $99,500-$137,750.
Network administrators can anticipate a 4.3 percent gain in base pay, to a range of $81,000-$111,250.