Blockchain & Cryptocurrency , Cryptocurrency Fraud , Fraud Management & Cybercrime
SEC Chair Pushes for Additional Cryptocurrency Regulations
Testifying Before Senate Committee, Gary Gensler Again Calls Crypto 'Wild West'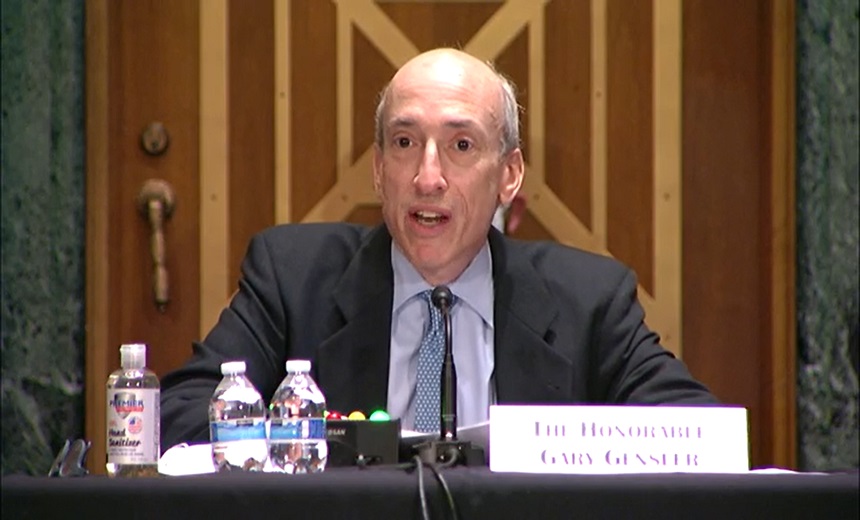 U.S. Securities and Exchange Commission Chair Gary Gensler testified before the Senate on Tuesday and again called for comprehensive cryptocurrency regulations, citing a need to reduce cybersecurity risks, other market risks, and criminal efforts to defraud investors, all while advancing the assets.
See Also: OnDemand | Understanding Human Behavior: Tackling Retail's ATO & Fraud Prevention Challenge
Appearing before the Senate Banking Committee, Gensler defended the SEC's ability to enforce securities laws against cryptocurrency companies, although several Republican lawmakers cited a "lack of clarity" in enforcement efforts, including around stablecoins, which are pegged to the U.S. dollar.
In his testimony, Gensler recognized cryptocurrencies can be a catalyst for change in the financial sector - unless they operate outside of public policy frameworks. Gensler noted the SEC is working with its companion agency, the Commodities Futures Trading Commission, to oversee crypto markets, and hopes to develop a framework alongside the Federal Reserve, Department of Treasury, Office of the Comptroller of the Currency, and the President's Working Group on Financial Markets.
Echoing earlier remarks, Gensler said, "Right now, large parts of the field of crypto are sitting astride of regulatory frameworks that protect investors and consumers, guard against illicit activity, and ensure for financial stability."
He continued: "We just don't have, I believe, enough investor protection in crypto finance. … Frankly, as I've said before, I think it's more like the Wild West. I've asked the SEC staff working with our fellow regulators … to bring investor protection to these markets."
Gensler added, "Make no mistake: To the extent that there are securities on these trading platforms, under our laws they have to register with the commission unless they qualify for an exemption."
Stablecoins and Regulatory Clarity
Much of the questioning, often down party lines, entailed the level of regulation the SEC can impose on inherently decentralized digital currencies.
Sen. Pat Toomey, R-Pa., ranking member of the committee, echoed concerns repeated by some cryptocurrency operators, citing the SEC's lack of clarity in regulatory obligations. Toomey also recently solicited public input for shaping future legislation (see: Senator Seeks Input on Securing Crypto, Blockchain).
"For instance, stablecoins do not have an inherent expectation of profit. They're just linked to the dollar. … Is it your view that stablecoins themselves can be securities?" Toomey asked.
"They may well be securities," the SEC chair responded, saying Congress has painted a "broad brush."
"To me, a stablecoin doesn't meet the second prong of the [court standard for determining whether an investment is a security,] the Howey Test," Toomey said. "I think we need to have clarity on this. And we certainly should not be taking enforcement action against somebody without having first provided that clarity."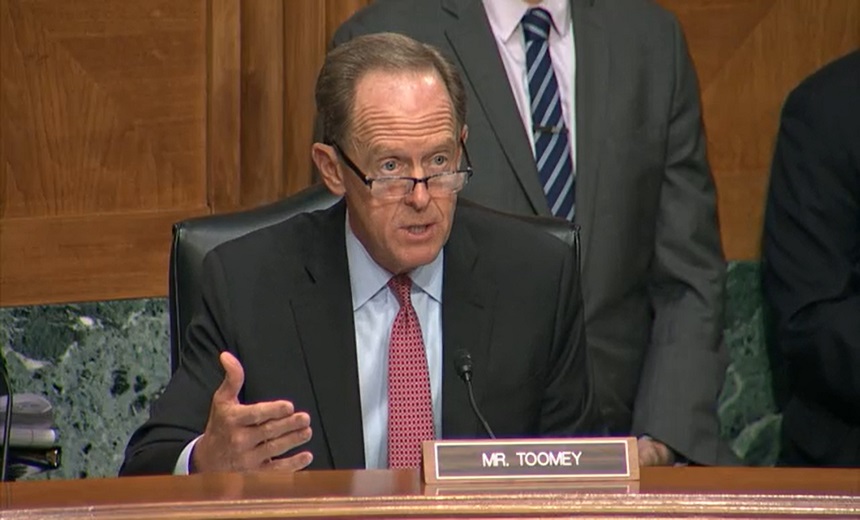 Sen. Pat Toomey, R-Pa., questioning the SEC on cryptocurrency Tuesday (Source: U.S. Senate Banking Committee)
Two Republican SEC commissioners - Hester Peirce and Elad Roisman - have taken a similar stance, saying recently, "There is a decided lack of clarity for market participants around the application of the securities laws to digital assets and their trading."
"Congress could change the laws," Gensler replied, "but the laws that we have right now have a very broad definition of security. … I'm not negative or minimalist about crypto. I think it would be best if it's inside the investor protection regime that Congress laid out." He said the "basic tenets" of anti-fraud and anti-manipulation, inside a "policy envelope," would in turn advance the space.
Debating SEC Authority
Sens. Mark Warner, D-Va., and Elizabeth Warren, D-Mass., each acknowledged cybersecurity risks attached to cryptocurrencies, which through exchange hacks or prolonged outages can deplete investors and leave them with little recourse.
Warren noted, "There is a whole list of problems with crypto - unreliable tech, devastating scams - but high, unpredictable fees can [also] make crypto trading really dangerous for people who aren't rich. Regulators need to step up to address crypto's regulatory gaps and ensure that we're actually building the inclusive financial system that we need."
Conversely, Sen. Steve Daines, R-Mont., criticized the SEC's stance on cryptocurrency and blockchain, noting, "I believe a lighter-touch regulatory approach is what's called for here. Over-regulating this young and emerging industry could drive jobs and innovation overseas, which we should all agree would be a bad outcome."
Gensler replied, "I think the way we innovate is within public policy frameworks, but we have asked companies to come and talk to us. If they're trading or lending a security, there's a registration regime, and companies since the 1930s have found ways to innovate, but register, or seek an exemption."
"If [crypto] stays outside of the public policy framework for anti-money laundering, tax compliance and investor protection, it's not going to long persist," the chair added.
'More Spills'
Citing a rise in fraud scams since the start of the COVID-19 pandemic, Sen. Raphael Warnock, D-Ga., noted, "[During the pandemic] criminals saw an opportunity to prey particularly on vulnerable populations and commit fraud."
Gensler responded: "Right now, there are many individuals in this country that have already been hurt. And there are unfortunately going to be more 'spills on aisle three,' so to speak, because this crypto area is trying to stay outside investor protection perimeters."
Last week, the SEC issued a new warning that criminal schemes are continuing to target digital assets. The bulletin said, "Fraudsters continue to exploit the rising popularity of digital assets to lure investors into scams, often leading to devastating losses." The regulator warned users to beware of potential phishing or impersonation scams that appear to offer "something new" or "cutting edge" (see: SEC Warns of Fraudulent Cryptocurrency Schemes).
Similarly, Matthew Prince, CEO of the security firm Cloudflare, acknowledged Monday that cryptocurrency exchanges have become a top target for cybercriminals, according to CNBC. Prince said these platforms are "where the money is," though the assets include currencies used to pay ransoms in crypto-locking attacks, an increasingly high-profile method that has sparked debate on the role of virtual currencies and public ledgers.