Cyberwarfare / Nation-State Attacks , Fraud Management & Cybercrime , Governance & Risk Management
Released: Redacted Mueller Report on Russian Interference
US Attorney General Defends Decision to Not Prosecute President for Obstruction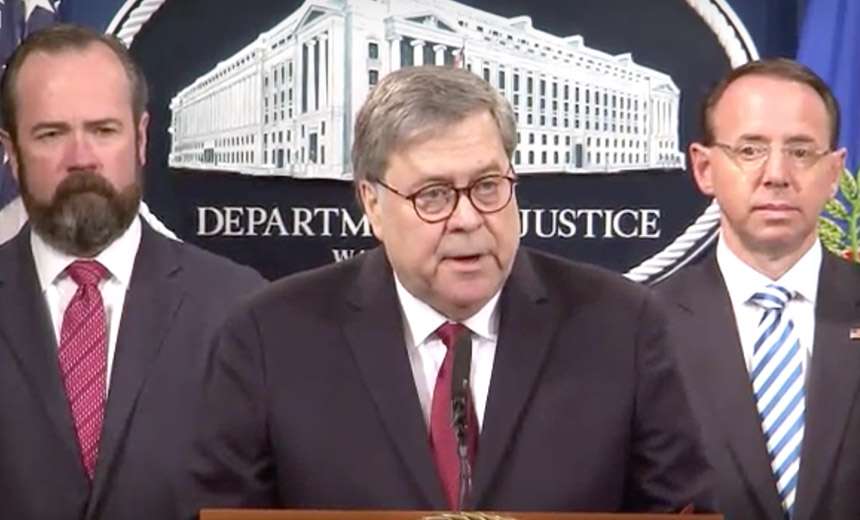 (For an analysis, see: Mueller Report: With Russian Hacking Laid Bare, What Next? )
See Also: Live Webinar | Breaking Down Security Challenges so Your Day Doesn't Start at 3pm
The U.S. Department of Justice on Thursday released a redacted version of a confidential report prepared for the U.S. attorney general by Special Counsel Robert Mueller.
The report is the result of Mueller's nearly two-year investigation into Russian interference in the 2016 U.S. presidential election, as well as whether President Donald Trump attempted to interfere in that investigation, for example, by firing former FBI Director James Comey.
Mueller's "Report on the Investigation into Russian Interference in the 2016 Presidential Election," split into two volumes of approximately equal length, concludes that Russia did attempt to interfere in the elections. The evidence that led to that conclusion has already been used to indict members of Russia's GRU military intelligence agency, as well as the Internet Research Agency, or IRA, a St. Petersburg, Russia-based business that prosecutors say operated as a social media troll farm (see: 10 Takeaways: Russian Election Interference Indictment).
But Mueller declined to judge whether Trump obstructed justice. "We determined not to apply an approach that could potentially result in a judgment that the president committed crimes," Mueller wrote in the report, because in a normal obstruction-of-justice case, the accused would have the right to a "speedy and public trial, with all the prosecutorial protections that surround a criminal case," whereas the president would have no such recourse if he felt he had been wrongly accused.
"While this report does not conclude that the president committed a crime, it also does not exonerate him," Mueller wrote.
Attorney General Previews Report
Appearing at a Thursday press conference, U.S. Attorney General William Barr said that he chose to release a redacted version of the confidential report, which he did not have to do, in the interest of transparency.
"As I said during my Senate confirmation hearing and since, I am committed to ensuring the greatest possible degree of transparency concerning the special counsel's investigation, consistent with the law," he said.
Barr released a four-page summary of Mueller's findings at the end of March (see: Mueller's Investigation Finds No Trump-Russia Conspiracy).
"One of the primary purposes of the special counsel's investigation was to determine whether members of the presidential campaign of Donald J. Trump, or any individuals associated with that campaign, conspired or coordinated with the Russian government to interfere in the 2016 election," Barr said during the press conference.
"Volume I of the special counsel's report describes the results of that investigation," he said. "As you will see, the special counsel's report states that his 'investigation did not establish that members of the Trump campaign conspired or coordinated with the Russian government in its election interference activities.'"
So far, Mueller's investigation has led to 34 individuals and three companies being indicted or pleading guilty to a variety of charges, which have included fraud, obstruction of justice and lying to Congress (see: Collusion Investigation: 37 Indictments and Counting).
But the report concluded that "the investigation did not identify evidence that any U.S. persons knowingly or intentionally coordinated with the IRA's interference operation."
Furthermore, while Russian operatives have been accused of hacking systems used the Democratic National Committee and Hillary Clinton's 2016 presidential campaign team, Barr said that "the special counsel's report did not find any evidence that members of the Trump campaign or anyone associated with the campaign conspired or coordinated with the Russian government in its hacking operations."
Barr added: "In other words, there was no evidence of Trump campaign 'collusion' with the Russian government's hacking."
DOJ Decision: Trump Didn't Obstruct Justice
Volume II of Mueller's report is the result of his investigation into whether Trump obstructed justice.
Barr said that together with Deputy Attorney General Rod Rosenstein, he reviewed 10 episodes involving President Trump that the report analyzed, asking if they might have broken obstruction of justice law.
"The special counsel did not make a traditional prosecutorial judgment regarding this allegation," Barr said, noting that the report instead reviewed the facts and offered relevant legal theories pertaining to each episode.
"After carefully reviewing the facts and legal theories outlined in the report, and in consultation with the Office of Legal Counsel and other department lawyers, the deputy attorney general and I concluded that the evidence developed by the special counsel is not sufficient to establish that the president committed an obstruction-of-justice offense," Barr said.
"Although the deputy attorney general and I disagreed with some of the special counsel's legal theories and felt that some of the episodes examined did not amount to obstruction as a matter of law, we did not rely solely on that in making our decision," he added. "Instead, we accepted the special counsel's legal framework for purposes of our analysis and evaluated the evidence as presented by the special counsel in reaching our conclusion."
Report Contains Four Types of Redactions
During the press conference, Barr said every redaction in the report has been labeled and color-coded as to why the information is being withheld, in line with one of four reasons:
Grand jury material, which cannot be legally released to the public;
Information that the intelligence community believes would disclose sources/methods;
Information that would impair the investigation or prosecution of other cases that are underway;
Information that has implications for the privacy of "peripheral third parties."
"As you will see, most of the redactions were compelled by the need to prevent harm to ongoing matters and to comply with court orders prohibiting the public disclosure of information bearing upon ongoing investigations and criminal cases, such as the IRA case and the Roger Stone case," he said.
Roger Stone Jr., a longtime political adviser to President Trump, was arrested in January as part of Mueller's investigation, and has been charged with obstruction of justice, witness tampering and five counts of making false statements (see: Trump Adviser Stone Charged With Lying About WikiLeaks).
Barr said the redactions "were applied by Department of Justice attorneys working closely together with attorneys from the Special Counsel's Office, as well as with the intelligence community and prosecutors who are handling ongoing cases."
The White House requested and was allowed to review a redacted version of the report and request further redactions, but it did not make any such requests, Barr said, noting that it would have been within the president's legal power to assert privilege - block the release of confidential information.
Trump's personal lawyer, Jay Sekulow, told Axios reporter Jonathan Swan that a White House legal team was allowed to review the Mueller report on Tuesday and Wednesday in a secure location.
Trump's personal lawyer Jay Sekulow just told me he first saw the Mueller report on Tuesday afternoon. Trump's legal team, including the Raskins, made two visits to the Justice Department to view the report securely - late Tuesday and early Wednesday, Sekulow said.

— Jonathan Swan (@jonathanvswan) April 18, 2019
The White House team did not request any redactions, Barr said. "Accordingly, the public report I am releasing today contains redactions only for the four categories that I previously outlined, and no material has been redacted based on executive privilege."
Some Lawmakers Will See Full Report
Barr promised that a complete version of the report - unredacted except for grand jury information - would be shown to a bipartisan group of leaders of multiple congressional committees.
He's also due to testify before Congress about the report in May, and he said he would have no objection to Congress calling on Robert Mueller to testify.
Barr earned criticism for holding a press conference 90 minutes before his office planned to release the redacted report to the leadership of the Senate and House judiciary committees, after which it had promised to post a copy of the redacted report.
In a question-and-answer session following the delivery of his prepared remarks, Barr was asked whether his press conference amounted to an attempt to "spin" the report's release in Trump's favor.
"No," he said.