Recession Rocks IT Profession
Information Technology Unemployment Rate Soars to 5.2% in 2009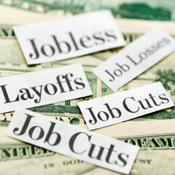 The recession hit the IT profession hard in 2009.

Unemployment among information technology managers and staffers jumped to 5.2 percent last year, up from 2.5 percent in 2008, according to the Labor Department's Bureau of Labor Statistics. It was the highest level of unemployment among IT pros in six years, when joblessness stood at 5.6 percent.

Annualized IT unemployment rose 0.5 percentage point from the third to fourth quarter of 2009, a GovInfoSecurity.com's analysis of BLS data released Friday shows.

"Hiring will not pick up in any big way for the IT industry as a whole until late in the year, and more likely 2011," David Foote, CEO and chief research officer of IT research and advisory firm Foote Partners, said in his firm's examination of the latest employment numbers. "Volatility will continue to punctuate staffing and pay levels, with employers focusing on the acquisition of specific skill specializations and not adding new workers to the payroll."

Still, IT professionals had it better than all occupations as a whole last year. Unemployment for all workers ages 16 years and over averaged 8.6 percent, climbing to 10 percent for November and December.

That wasn't the case in 2003, the last year of relatively high IT unemployment. Then, overall and IT unemployment equaled each other at 5.6 percent.

Why the incongruity between 2003 and 2009?

First, the rise in unemployment in the early 2000s was propelled, in part, by the collapse of the dot-com boom that employed a disproportionate number of IT professionals. Second, today's economy is much more dependent on IT than earlier in the decade, meaning employers must retain a higher number of tech professionals - whether as employees or contractors - than in the past to keep their IT systems running and their businesses functioning.

And that dependency was reflected in other employment numbers the BLS released Friday that shined a ray of hope that the slide in IT employment may soon be over. BLS issues two employment reports on the first Friday of each month, a survey of 60,000 households in which the unemployment rate is derived, the one cited above, and the establishment survey of 160,000 business and government agencies that cover 400,000 individual worksites, which employs about one-third of all nonfarm payroll workers. Unlike the household survey, which tracks specific occupations, the establishment survey follows industry sectors.

Companies that offer IT services, officially labeled by BLS as computer systems design and related services, experienced their fourth straight month of payroll growth, reaching a record 1,477,100 employees, the establishment survey revealed. IT services companies have increased their payrolls by 15,800 employees, or 1.1 percent, since August. The percentage seems small, but historically is significant and is heading in the right direction. As a comparison, during that same period, all sectors combined to shed 1,067,000 jobs, or 0.8 percent of payrolls.

"There's no doubt about the fact that this was a disappointing jobs report for the nation as a whole," Foote said in his analysis. "But for unemployed and underemployed IT workers, it's encouraging that the IT services industry can look forward to increasing demand for their services and is responding by adding workers. We can expect to see hiring of technical and management specialists by services firms picking up further in the first quarter of 2010 as demand continues to expand."

Employment opportunities for IT pros in the coming months are more likely to be found in IT services firms than in end-user organizations. Employers, Foote said, "can more easily rent those skills from contractors and consultant as they constantly struggle to recalibrate their IT labor needs."

(Listen to our interview with Foote on what's hot and why in the IT security profession in 2010.)

During 2009, the number of people in the United States who consider themselves information technology professionals - the IT workforce consists of the employed and unemployed seeking info tech jobs - dropped by 117,000, or 2.8 percent. In 2009, the IT workforce averaged 3,991,000 people, down from 4,108,000 in 2008.

IT pros holding jobs last year averaged 3,782,000, down from 4,004,000 in 2008, a decline of 222,000 or 5.5 percent. The number of unemployed IT managers and staffers more than doubled in 2009, to 209,000 from 104,000.

Because of the sampling size, some of the employment statistics are better interpreted as reflecting trends rather than being the gospel truth. Here's one puzzling piece of data to show just that, involving network and computer systems administrators, one of eight IT occupations used in this analysis. It's also the occupational class in which many IT security pros are assigned; BLS doesn't have information security occupation categories.

The network and computer systems administrators' occupational category experienced a sharp drop in employment over the past year to 207,000 from 227,000, and an even steeper proportional increase in unemployment, to 16,000 from 7,000, if BLS numbers are to be believed. The unemployment rate soared in one year to 7.2 percent from 3 percent. Why such a dramatic change? The most probable answer is sample size. The workforce of network and computer systems administrators represent fewer than 0.15 percent of the entire workforce. Extrapolating that figure to the number of households surveyed, government surveyors queried fewer than 90 households with a network and computer administrator out of 60,000 households. That's too few households surveyed for statisticians and economist to feel comfortable with the result's reliability.

If the numbers are hard to believe, why report them? They are collected scientifically by the government, and combined with other data, help people understand the current IT jobs environment.

Indeed, aggregating all IT occupations - managers, computer scientists/systems analysts, computer programmers, computer software engineers, computer support specialists, database administrators, network and computer systems administrators, and network systems and data communications analysts - into one category increases the data's reliability. An estimate 3,355 of surveyed households, or 5.6 percent, have at least one IT pro. Still, that number is small, as are each class of occupations, and is the reason BLS gives why it doesn't post occupational employment numbers on its website, though the data are available upon request.

BLS also does not provide specific occupation classifications for information security professionals, spreading them among several occupations, including network and computer systems administrators.