Fraud Management & Cybercrime , Ransomware
Children's Hospital Expects Weekslong Ransomware Recovery
Treatment and Diagnostic Delays at Toronto Hospital Blamed on Malware Attack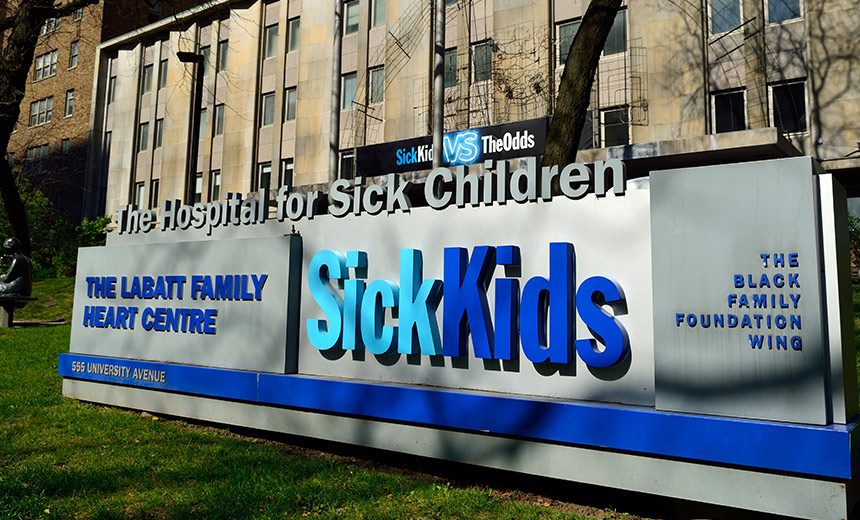 Nearly a week after a ransomware attack forced a network shutdown at Toronto's Hospital for Sick Children, patients are still experiencing delays in treatment and diagnostic procedures. The hospital says it has restored some systems, phones and websites, but the recovery process could take weeks.
See Also: Ponemon Report: The Impact of Ransomware on Patient Safety and the Value of Cybersecurity Benchmarking
Hackers targeted the hospital's network on Dec. 19, forcing it to take down its affected network for the recovery. Popularly known as SickKids, the hospital is one of Canada's largest research-focused centers for children.
In a statement, the hospital said the hack affected a few of its internal clinical and corporate systems, as well as some hospital phone lines and webpages. The hospital did not provide details on the ransomware attack but said at the time the incident did not result in any user data leaks.
In its latest update, the hospital acknowledged that while it has restored some of the affected systems, such as phone lines and websites, it would take a few more weeks to completely restore all services.
As a result, some patients "may still experience diagnostic and/or treatment delays," the hospital says.
Latest in Series of Attacks Against Healthcare
The attack against SickKids is the latest in a series of ransomware attacks targeting healthcare providers and business associates that has been surging globally since the COVID-19 pandemic began. The FBI in June revealed that it had helped Boston Children's Hospital avoid an attack by Iranian hackers in 2021.
In a similar incident, Lake Charles Memorial Hospital in Louisiana reported earlier today that it was targeted in a ransomware incident, following which hackers gained access to its networks. As a result of the incident, some patient data including Social Security numbers were exposed. The hospital said it is currently working with law enforcement agencies and alerting the data breach victims of potential identity theft using the exposed data.
These types of attacks can prove costly to healthcare providers. A successful ransomware attack against the Irish Health Service Executive last year cost the healthcare agency 80 million euros in damages and recovery, an amount that is estimated to climb in coming months as the hospital notifies nearly 113,000 breach victims (see: Irish Healthcare Ransomware Hack Cost Over 80 Million Euros).
In an alert released this month, the U.S. Department of Health and Human Services Health Sector Cybersecurity Coordination Center warned that the hackers behind LockBit 3.0 - also known as LockBit Black - have been actively targeting healthcare sector entities since June (see: LockBit 3.0 Ransomware Threatens Health Sector, Feds Warn).
Due to the rising ransomware threats to healthcare organizations, the American Hospital Association recently argued that ransomware hacks should be treated as "threat-to-life crimes," as they put patient safety at risk and affect a hospital's ability to provide patient care. The organization called on U.S. cyber agencies to adopt and "active," or "forward," defensive posture to tackle cyberattacks against health care infrastructure.