Power of Continuous Threat Protection
Dave DeWalt and Kevin Mandia of FireEye on the New Security Model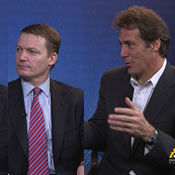 The old security model is broken, and now is the time to introduce a whole new approach to threat detection and response. This is the message from Dave DeWalt and Kevin Mandia of FireEye.
See Also: Live Webinar | Breaking Down Security Challenges so Your Day Doesn't Start at 3pm
The threat landscape has changed significantly in the past year, creating the demand for new security strategies. And with the acquisition of Mandiant, FireEye also has changed significantly and now provides security strategies and solutions from first alert to remediation.
In an exclusive video interview recorded at RSA 2014, DeWalt and Mandia discuss:
Why the current security model no longer works;
Today's evolving threats;
The most compelling benefits of the FireEye/Mandiant acquisition.
DeWalt has served as chief executive officer since November 2012 and as chairman of the board since May 2012. Prior to joining FireEye, he served as president, chief executive officer and director of McAfee, Inc. from April 2007 until February 2011, when McAfee was acquired by Intel Corporation. He served as president of McAfee, a wholly-owned subsidiary of Intel, from February 2011 to August 2011. From December 2003 to March 2007, he held various positions at EMC Corporation, a developer and provider of information infrastructure technology and solutions. Prior to EMC, DeWalt served as president and chief executive officer of Documentum, Inc. from July 2001 to December 2003, and he held other senior executive positions at Documentum from August 1999 to July 2001.
Mandia has served as senior vice president and chief operating officer since December 2013 when FireEye acquired Mandiant, the company he founded in 2004 and had served as chief executive officer. Prior to Mandiant, he served as the director of computer forensics at Foundstone (acquired by McAfee Corporation) from 2000 to 2003, and as the director of information security for Sytex (later acquired by Lockheed Martin) from 1998 to 2000. From 1993 to 1998, he was an officer in the United States Air Force where he served in various capacities including as a computer security officer in the 7th Communications Group at the Pentagon, and later as a special agent in the Air Force Office of Special Investigations (AFOSI).
Additional Summit Insight:
Hear from more industry influencers, earn CPE credits, and network with leaders of technology at our global events. Learn more at our Fraud & Breach Prevention Events site.