Pentagon: China Cyber Weaponry Poses Threat
Internet Gives China a Global Military Presence, Defense Report Says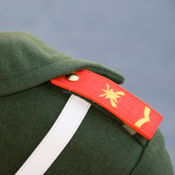 China's growing military muscle includes inroads into cyber warfare, says a Pentagon report issued Wednesday.

"China's ability to sustain military power at a distance remains limited, but its armed forces continue to develop and field disruptive military technologies, including those for anti-access/area-denial, as well as for nuclear, space and cyber warfare, that are changing regional military balances and that have implications beyond the Asia-Pacific region," states the Defense Department's annual report to Congress on China's military power.

Along with growing offensive nuclear and space technologies, cyber warfare capabilities are the only aspects of the Chinese armed forces that have the potential to be truly global, the analysis says. Still, the report says, Chinese military and civilian leaders have not likely thought through the global and systemic effects of the use of these capabilities.

The increasing use by China and Russia of cyber technology as a weapon against the United States and other nations is a matter the American government has not paid close attention to until recently. "The government has grossly underestimated the threat for the past several years," Paul Kurtz, who held a number of high-level cybersecurity posts in the Clinton and Bush administrations, said in an interview with GovInfoSecurity.com before the Defense Department released its report. "They're coming into tune, they're finally starting to understand the gravity of problem, but have a long way to go in order to put the solution set in place."

Melissa Hathaway, the senior White House advisor who's conducting a cybersecurity program and policy review for President Obama, concurred. "We are late in addressing this critical national need and our response must be focused, aggressive and well-resourced," she wrote last fall in an article published by The Intelligencer: Journal of U.S. Intelligence Studies.

"Russia and China are targeting our government and private sector information networks to perform military style reconnaissance and gain competitive advantage for their commercial sectors," she said.

According to the Pentagon report, China last year apparently targeted computer systems around the world, including those operated by the U.S. government. "Although these intrusions focused on exfiltrating information, the accesses and skills required for these intrusions are similar to those necessary to conduct computer network attacks," the report says. "It remains unclear if these intrusions were conducted by, or with the endorsement of, the PLA (People's Liberation Army) or other elements of the PRC (Peoples Republic of China) government."

Among suspected publicized attack by China or its agents last year, identified by the Defense Department, are an intrusion of a computer network and servers of India's External Affairs ministry in April and multiple attacks on Belgian government computers in May. The report points out that American authorities are investigating whether Chinese officials secretly copied contents of an American government laptop during a visit to China by the Commerce Department secretary last spring and used the information to try to penetrate into Commerce computers in May. The investigation continues.