Cryptocurrency Fraud , Cybercrime , Fraud Management & Cybercrime
OneCoin Cryptocurrency Scam Suspect Faces Extradition to US
International Fraudulent Cryptocurrency Pyramid Scheme Netted $4 Billion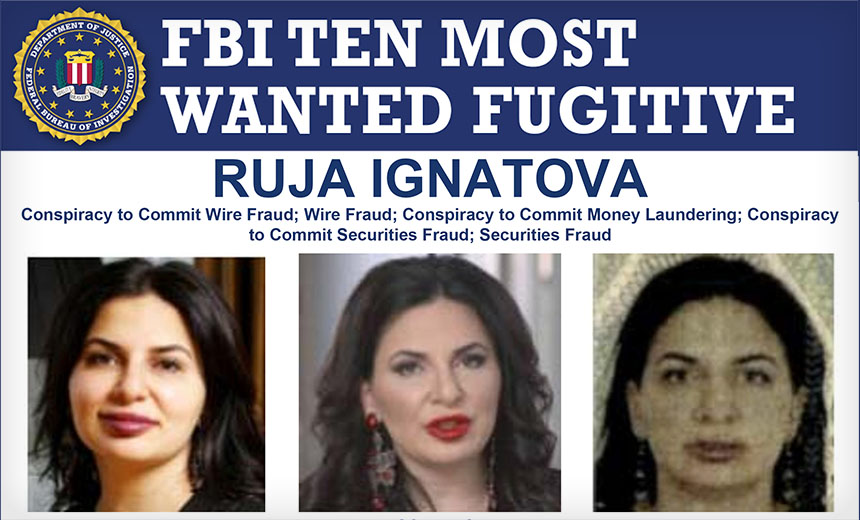 A British judge approved extradition to the United States of a man accused of laundering $105 million as part of multibillion-dollar global cryptocurrency scheme run by a self-titled "Cryptoqueen" who's been on the run from law enforcement for half a decade now.
See Also: OnDemand | Understanding Human Behavior: Tackling Retail's ATO & Fraud Prevention Challenge
Christopher Hamilton appeared in Westminster Magistrates Court in London in a bid to block the extradition by arguing a trial over his involvement in the OneCoin cryptocurrency fraud should take place in the United Kingdom. District Judge Nicholas Rimmer turned Hamilton down, Law360 reports, concluding that there's no doubt that injury occurred in the United States.
Hamilton's codefendant, Robert McDonald, escaped extradition after Rimmer concluded that McDonald expressed "clear and genuine suicidal intent" in the event of extradition and that he was the primary caregiver for his wife, who has multiple sclerosis.
Hamilton can appeal the decision, and final approval for the extradition is in the hands of Britain's secretary of state, Conservative Member of Parliament Priti Patel.
$4 Billion Pyramid Scheme
Founded in 2014, OneCoin is one of the biggest scams in history. Described by the U.S. Department of Justice as an "international pyramid scheme that involved the marketing of a fraudulent cryptocurrency called 'OneCoin,'" the scam amassed an estimated $4 billion from investors for a piece of what was marketed as a "bitcoin killer."
"OneCoin claimed to have a private blockchain," says FBI Special Agent Ronald Shimko, who is investigating the case from the bureau's New York field office. "This is in contrast to other virtual currencies, which have a decentralized and public blockchain. In this case, investors were just asked to trust OneCoin."
The scam's alleged mastermind was Bulgarian national Ruja Ignatova, 42, whose preferred moniker was "Cryptoqueen." Ignatova has been on the lam from law enforcement since 2017. Interest in the case and her potential whereabouts remains high.
In May, Europol added Ignatova to its most wanted list, offering a reward of up to $5,000 for information that leads to her arrest. Ignatova "is suspected of having, as the driving force and intellectual inventor of the alleged cryptocurrency 'OneCoin,' induced investors all over the world to invest in this actually worthless 'currency,'" Europol says.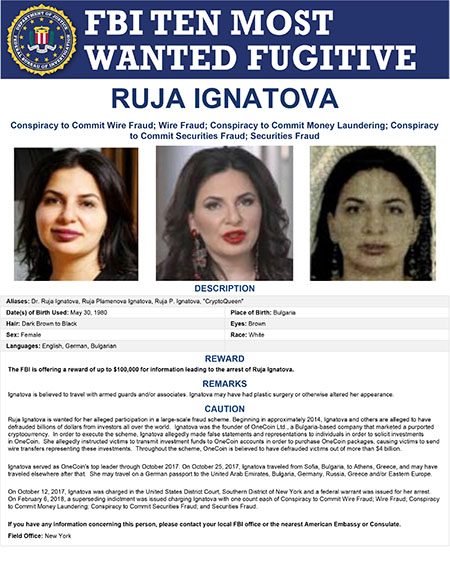 The FBI's wanted poster for alleged OneCoin scam mastermind Ruja Ignatova, aka the "Cryptoqueen"
In June, the FBI followed suit, offering a reward of up to $100,000 for information leading to her arrest.
Ignatova was charged by U.S. prosecutors on Oct. 12, 2017. Thirteen days later, potentially after she was tipped off that she was under investigation, she traveled from Sofia, Bulgaria, to Athens, Greece. Her whereabouts have remained unknown since then.
"She has not appeared in public since this date, either in connection with OneCoin or otherwise," according to a wanted notice posted by Germany's North Rhine-Westphalia state police force.
"Ignatova could have surgically changed her appearance," it says, warning that she "or possible persons accompanying her might be armed."
Other OneCoin Co-Founders Arrested
After Ignatova fled, her brother, Konstantin Ignatov, a co-founder, became chief executive of OneCoin. He was arrested in 2019 at Los Angeles International Airport and pleaded guilty later that year to money laundering and fraud.
Beyond OneCoin lacking an actual blockchain, the DOJ said when announcing his arrest that "by approximately March 2015, Ignatova and her co-founder had started allocating to OneCoin members coins that did not even exist in OneCoin's purported private blockchain, referring to those coins as 'fake coins.'"
Sebastian Greenwood is another OneCoin co-founder. Accused of money laundering, he was arrested in 2018 by police in Thailand, acting on an international arrest warrant issued by the U.S., as well as an Interpol red notice, the Bangkok Post reported. He was extradited to the U.S. but his trial isn't scheduled to occur until May 2023.
Another defendant in the case is Mark S. Scott, a former partner at law firm Locke Lord LLP. The DOJ has accused him of laundering $400 million on behalf of OneCoin "through a series of purported investment funds holding bank accounts at financial institutions in the Cayman Islands and the Republic of Ireland, among other locations." He was arrested in Barnstable, Massachusetts, on Sept. 5, 2018.
A jury found Scott guilty of money laundering. But Scott has signaled he'll push for a new trial, after evidence emerged that one of the government's witnesses against him, Konstantin Ignatov, committed perjury.
'Preferred Transaction Method for Scammers'
As cryptocurrency investors and exchange users continue to see their losses mount due to scams, lawmakers are reviewing whether consumers protections are sufficiently robust.
"As stories of skyrocketing prices and overnight riches have attracted both professional and amateur investors to cryptocurrencies, scammers have cashed in. The lack of a central authority to flag suspicious transactions in many situations, the irreversibility of transactions, and the limited understanding many consumers and investors have of the underlying technology make cryptocurrency a preferred transaction method for scammers," says Rep. Raja Krishnamoorthi, D-Ill.
On Tuesday, he wrote to five cryptocurrency exchanges - Binance.US, Coinbase, FTX, Kraken and KuCoin (see: Coinbase Faces Class Action Over Alleged Security Lapses).
Seeking answers by Sept. 12, Krishnamoorthi asked the exchanges for details about their written policies and "efforts to combat crypto-related scams and fraud and inform consumers about the risks related to investments in cryptocurrencies."
He's also written to the U.S. Department of Treasury, Securities and Exchange Commission, Commodity Futures Trading Commission and Federal Trade Commission. From them, he's seeking information about what they're doing "to combat cryptocurrency-related fraud."
"I am concerned about the growth of fraud and consumer abuse linked to cryptocurrencies," he says in his letter to the FTC and others. "I am also concerned by the apparent lack of a consensus or coordinated action from executive branch agencies to classify and regulate cryptocurrencies in order to prevent fraud and abuse."