ONC's Blumenthal to Step Down
Headed HITECH Act Implementation Efforts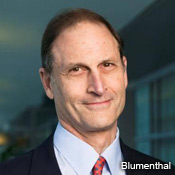 National Coordinator for Health Information Technology David Blumenthal, M.D., will step down from his post this spring. Blumenthal, who will return to the faculty at Harvard University, has headed efforts to enact rules and regulations to carry out the HITECH Act, including the electronic health record incentive program.

"I will be returning to my academic home this spring, as was planned when I accepted the position of National Coordinator for Health Information Technology," he said in a memo to staff.

Many HITECH regulations deal with privacy and security issues. For example, the HITECH EHR incentive program requires hospitals and physicians to conduct a risk assessment and mitigate any risks identified. EHRs certified for the program must contain numerous security functions.

In addition to the Medicare and Medicaid EHR incentive program, which could provide as much as $27 billion in payments to hospitals and physicians, Blumenthal and his team at the Office of the National Coordinator put into place $2 billion worth of other projects, including:
62 regional extension centers providing IT assistance to smaller healthcare organizations;
84 community college programs offering healthcare IT training;
17 Beacon community projects, demonstrating how IT can help address local health needs;
Grants to states to support development of statewide health information exchanges.
Before assuming his current role at ONC, a unit of the Department of Health and Human Services, in April 2009, Blumenthal was director of the Institute for Health Policy at Massachusetts General Hospital/Partners HealthCare System in Boston. A practicing physician, he also served as the Samuel O. Thier Professor of Medicine and Professor of Health Care Policy at Harvard Medical School. He also served as director of the Harvard University Interfaculty Program for Health Systems Improvement.
Previously, he was senior vice president at Boston's Brigham and Women's Hospital and served as executive director of the Center for Health Policy and Management and as a lecturer on public policy at the John F. Kennedy School of Government.
During the late 1970s, Blumenthal worked on Senator Edward Kennedy's Senate Subcommittee on Health and Scientific Research. More recently, Blumenthal served as a senior health adviser to the Obama presidential campaign.