Obama's Failure to Tap Czar Criticized
Cyber Caucus Chairs Call for Swift Action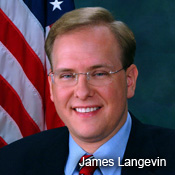 The co-chairs of the House Cybersecurity Caucus have expressed disappointment that President Obama has yet to name a presidential cybersecurity adviser more than three months after saying he would do so and called on the president to coordinate cybersecurity policy from the White House.

In a letter addressed to Obama and signed by Rep. James Langevin, D.-R.I., and Michael McCaul, R.-Texas, the congressmen referenced two of the most "fundamental recommendations" of last December's report by the Commission on Cybersecurity for the 44th Presidency that recommended the president create a comprehensive national security strategy for cyberspace and that the strategy be coordinated from the White House.

"While we are pleased to see progress on the first step, we are deeply concerned by the delay in acting on the second," the congressmen wrote in the letter dated Sept. 10 and released Monday. "Specifically, we strongly believe that the continued absence of a permanent cybersecurity coordinator impedes the ability of federal agencies to move forward in updating and strengthening their aging cyber policies, while also complicating our efforts to collaborate with private institutions that play such a critical role in keeping our nation safe."

When Obama outlined his cybersecurity strategy in late May, he said he would soon name a White House cybersecurity coordinator to help guide federal cybersecurity policy. However, the authority cybersecurity coordinator would have, as described by Obama, fell short of a higher ranking adviser proposed in the report issued by the commission, co-chaired by the congressmen and composed of highly regarded cybersecurity policymakers, lawmakers and academics. Meanwhile, the latest version of a key Senate bill to reform the Federal Information Security Management Act that governs federal IT security would shift much of the federal cybersecurity policymaking to the Department of Homeland Security from the White House.

The congressmen called for quick action on the cybersecurity adviser because foreign aggressors and criminals have penetrated inadequately protected U.S. computer networks. "These attacks have provided access to vast quantities of valuable information, and while our most sensitive U.S. military communications remain safe, economic competitors and potential military opponents have not hesitated to exploit opportunities presented by our lack of robust cybersecurity protections," their letter states.