NSA Unveils Smartphone Recruitment Apps
Applications Delivers Real-Time Updates on Job Opportunities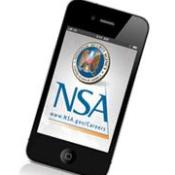 To say the National Security Agency is tech-savvy would be an understatement. It shouldn't surprise anyone that the super-secret electronics intelligence agency has unveiled two smartphone applications to help the NSA recruit cybersecurity and other types of experts in engineering, math, science and technology.

The NSA says its Career Links Smartphone application, available through iTunes, delivers real-time agency updates such as available employment opportunities, career fairs and NSA news to a user's iPhone. The user also can view videos highlighting NSA employee experiences.

NSA is also employing smartphone tagging on many of its print-based recruitment advertisements. Users with smartphones equipped with the Apple iOS or Android operating systems can use their phones to scan these tags, which will launch a video related to the advertisement's content.

Kathy Hutson, NSA associated director for human resources, said in a statement announcing the new apps that the agency looks to expand its workforce this year and will employ traditional and digital recruitment tools to find qualified recruits. "Our need for these skills is enormous; therefore, we need to be using cool high tech tools," she said.