NIST to Hold Cloud Computing Forum
Federal CIO Vivek Kundra Among Featured Presenters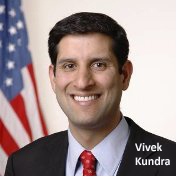 Federal Chief Information Officer Vivek Kundra, Google Chief Internet Evangelist Vint Cerf and National Institute of Standards and Technology Director Patrick Gallagher will be featured a the NIST Cloud Computing Forum and Workshop III on April 7 and 8 at the institute's Gaithersburg, Md., campus outside of Washington.

Among the topics to be addressed at the forum are cloud computing's trustworthiness and standards.

Kundra, a strong advocate of cloud computing, has called upon NIST to help accelerate the federal government's adoption of secure cloud computing practices by leading efforts to develop standards and guidelines in collaboration with standards bodies, the private sector, other government agencies and other stakeholders.

According to NIST, working groups that were formed during its Cloud Computing Workshop and Forum in November will provide progress reports. These working groups cover a range of cloud computing issues.