NIST Eyes IT Lab Reorganization
Plan Aims to Enhance Cybersecurity Efforts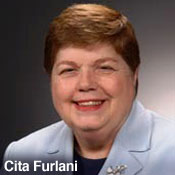 The National Institute of Standards and Technology is in the early stages of reorganizing its Information Technology Laboratory, with the aim to enhance NIST research on cybersecurity.

The proposed reorganization comes after a detailed assessment that began last month under the direction of ITL Director Cita Furlani, NIST spokeswoman Gail Porter says.

Under the planned reorganization, NIST's chief cybersecurity adviser who also serves as head its Computer Security Division - jobs held by Curt Barker (at left) - would relocate to Furlani's ITL office in his capacity as chief cybersecurity adviser. Barker would continue to oversee the Computer Security Division. On its website, the ITL organization chart already shows Barker in the ITL office. That's because he's on assignment as the cybersecurity and privacy coordinator for the Department of Commerce, where NIST is housed, which effectively elevates him to the ITL office, Porter says.

NIST contends that placing the chief cybersecurity adviser in the ITL office would encourage more multidisciplinary collaboration with other NIST units in developing cybersecurity programs and guidance. "Cybersecurity is a vital, central mission of our laboratory," Furlani said in a letter dated Thursday. "Our programs must fully reflect the complex interdisciplinary nature of today's threats. Any changes ultimately made to management of our cybersecurity programs will be carefully designed to significantly improve and reinforce protection of the nation's information technology resources."

NIST would not provide further details on the reorganization plan, but said it would neither reduce the number of its employees nor involve major changes in the lab's core competencies. "NIST has no plans to 'shutter' or 'eliminate' its Computer Security Division nor will it redistribute the resources of the group throughout the lab," Furlani wrote. "Quite to the contrary, my draft proposal would strengthen our cybersecurity efforts and would not 'break up' the highly effective team of NIST experts who currently work in the Computer Security Division. The great majority of these staff members would remain together in one unit."

Furlani said discussion or concern about the reorganization is premature since it's in its very early stages. "Stakeholders will be consulted," she wrote, an apparent reference to a letter she received last week from four former NIST officials who expressed concerns that a reorganization could hamper NIST's mission. "No imminent changes are expected. The Oct. 1 target completion date was discussed internally only and is not a deadline of any kind."

What could delay implementation of any reorganization plan is the absence of a NIST director, who would need to approve it. The post has been vacant since William Jeffrey resigned two years ago. Former President Bush never named a replacement and President Obama has yet to nominate a NIST director. The White House didn't respond to a query asking when such an appointment would be made and why it's taking so long. On Friday, a White House spokesman said the administration is actively seeking a NIST director but couldn't explain why one has yet to be named or publicly say when the nomination will occur. Meanwhile, Deputy Director Patrick Gallagher is acting as interim head of NIST but does not hold the title as acting director.

* * *

Click here to listen to or read a transcript of an interview GovInfoSecurity.gov conducted this spring with Curt Barker, NIST chief cybersecurity adviser.