NIST Director Outlines Labs' Realignment
Gallagher Emphasizes Focus on Specific Missions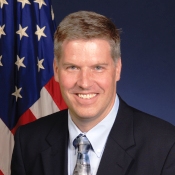 A reorganization of the National Institute of Standards and Technology in the works would realign NIST laboratories to emphasize specific missions to improve service delivery, NIST Director Patrick Gallagher told Congress on Tuesday.

"Increasingly, the technological and scientific challenges tackled by NIST are multidisciplinary," Gallagher testified before the House Committee on Science and Technology's Subcommittee on Technology and Innovation. "Examples of our multidisciplinary work include initiatives on smart grid, advanced photovoltaics, climate change and bioscience and health. Currently, all major multidisciplinary NIST programs involve more than one laboratory, and several programs involve as many as seven. Coordination of these major programmatic responsibilities increases the friction in the system, making it more difficult to address these challenges efficiently and effectively."

The problem with the current structure is that the NIST's 10 labs emphasize managing their research portfolios and not disseminating their research to government agencies and businesses, which diminishes NIST's responsibility, Gallagher said. "This is a major concern for me because it can make us less customer focused, since many of our industry stakeholders interact with NIST through these measurement, standards, and technology activities," he said.

The realignment of the laboratories isn't seen as having a significant impact on the Information Technology Lab. In fact, the IT Lab is being held up as a model of what other NIST labs could become. For instance, with its multidisciplinary approach, the IT Lab addresses a wide range of missions including cybersecurity, health IT and voting technology. Now, elsewhere in NIST, some expertise could be spread among several labs.

To facilitate a NIST lab realignment, Gallagher proposed restructuring the director's office, eliminating the deputy director's post, but adding three associate directors. The associate director for laboratory program would be responsible for the scientific and technical laboratories and services, including the IT Lab. The associate director for innovation and industrial services would be in charge of NIST's external programs, such as the Baldrige National Quality Program. The associate director for management resources would oversee NIST's administrative and operational support activities.

Gallagher characterized the current structure of the director's office as unstable, contending it's too small to effectively manage and integrate NIST's diverse programs that carry out its mission. "In other words," he said, "the agency didn't come together until it got up to the director's office. This structure tends to drive the management of any activity that crosses line organizations up to the director's office. This is an unwieldy approach."

Any changes to NIST's organizational structure needs the approval of the Department of Commerce, where the institute is situated, and the Office of Management and Budget in consultation with Congress, which provides its funding.