New GOP HealthCare.gov Security Probe
Former U.S. CTO Todd Park Called on to Testify at Hearing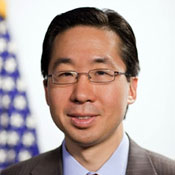 A House Committee chairman has issued a subpoena to former U.S. Chief Technology Officer Todd Park, calling on him to testify next month about the security of Obamacare's HealthCare.gov website and systems.
See Also: Pandemic-Driven Change: The Effect of COVID-19 on Incident Response
Rep. Lamar Smith, R-Texas, chair of the House Science, Space and Technology Committee, issued the subpoena to Park to appear at a Nov. 19 hearing held by its subcommittee on oversight. Park left the CTO post in August, but continues to serve as a technology adviser to the White House.
A statement on Smith's website says the subpoena "compels" Park to answer questions regarding his role in developing and evaluating the operations and security of Healthcare.gov. "The Obama administration has [previously] failed to provide this committee with information about the security of the Obamacare website," the statement says. "What is the White House trying to hide?"
Security Steps
Last month, Centers for Medicare and Medicaid Services administrator Marilyn Tavenner testified before the House Committee on Oversight and Government Reform that the agency was taking dozens of steps recommended by the Government Accountability Office to improve HealthCare.gov security before the next open enrollment season for Obamacare launches on Nov. 15.
Also, CMS recently confirmed that on August 25, a HealthCare.gov test server was hacked (see HealthCare.gov Server Hacked). "Our review indicates that the server did not contain consumer personal information; data was not transmitted outside the agency, and the website was not specifically targeted," CMS said. "We have taken measures to further strengthen security."
The issue of whether the federally facilitated HealthCare.gov had undergone thorough security testing and risk mitigation prior to the Affordable Care Act's initial open enrollment launch on Oct. 1, 2013, has been an ongoing point of contention with some members of Congress, and the subject of several hearings.
GOP Report
In Smith's statement, he alleges a new GOP report sheds light on Park's involvement in the development of HealthCare.gov.
The report says that on Nov. 13, 2013, Park testified under oath before the House Oversight and Government Reform Committee that he did not "actually have a really detailed knowledge" of the HealthCare.gov website before it was launched and was "not even familiar with the development and testing regimen that happened prior to October 1."
However, the GOP report alleges that a review of e-mails provided to the House Oversight and Government Reform Committee from the Department of Health and Human Services, which oversees CMS, indicates that:
Park communicated regularly with all major government and contractor personnel involved with the website's development prior to Oct. 1, 2013;
Park appears to have been a principal liaison to the White House and the press about development of the HealthCare.gov website prior to its "ill-fated launch"; and
Park "appears to have been a contributing source of schedule pressure that the website be launched on Oct. 1, 2013."
A watchdog agency within the Treasury Department this week issued a report recommending that the Internal Revenue Service needs to put into place additional procedures to ensure that Obamacare health insurance exchanges properly safeguard consumer tax information (see IRS Told To Beef Up Obamacare Scrutiny).