Navy Taps Ex-Army Intel Officer as CIO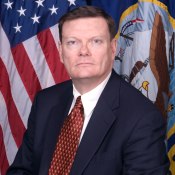 The Navy has turned to a former Army intelligence officer as be its new departmental chief information officer.

Navy Secretary Ray Mabus named Terry Halvorsen as CIO effective Monday. Halvorsen replaces Robert Carey, who became Defense Department deputy CIO and deputy assistant secretary last month after a brief tenure as the director of strategy and policy for the 10th Fleet/Fleet Cyber Command.

Halvorsen also serves as the Navy's cyber/IT workforce community leader, critical infrastructure assurance officer and the senior military component official for privacy.

Before his appointment as CIO, Halvorsen had been serving as the deputy commander of the Navy Cyber Forces since January. Earlier, Halvorsen served as deputy commander of the Naval Network Warfare Command where he oversaw 16,000 military and civilian personnel that supported 300 ships. and 800,000 computer network users dispersed around the globe.

A federal civil-service employee since 1985, Halvorsen entered the senior executive service nine years later as the executive director of the Naval Personnel Development Command. He graduated with honors from Widener University with a degree in history. Following graduation,. Halvorsen was commissioned a Army in May 1980. While in the Army, he obtained a master in educational technology from the University of West Florida.