Navy CIO to Leave by End of Summer
Robert Carey to Remain in Senior Departmental Role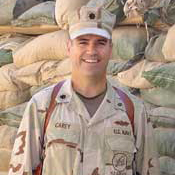 Navy Chief Information Office Robert Carey will be moving to another senior position within the department by the end of the summer.

Carey informed his staff Tuesday morning that Navy Undersecretary Robert Work asked him to take on new responsibilities, which have yet to be defined, according to the Navy CIO office. Work is said to advocate that members of the federal government's senior executive service within the Navy periodically move to other positions to hone their skills and benefit the department's organization.

Carey will help Work select a successor.

A captain in the Navy Reserves - he returned from his annual reserve duty last month - Carey has been Navy CIO for four years, and has served as co-chair with Justice CIO Van Hitch of the Federal CIO Council's Information Security and Identity Management Committee. It's assumed that Carey will leave that post as well.

Carey during his tenure has embraced emerging technologies and new media, believing it benefits the department in achieving its goals when properly secured. He was among the first CIOs to blog regularly and instrumental in getting the Defense Department to employ secure removable media.

In an interview last year with GovInfoSecurity.com, Carey shared his thoughts on employing Web 2.0 technologies:
"The Web2.0 tools present an opportunity to us to smartly implement them in the conduct of our day to day business. We have to be mindful of the fact that we are not the drivers of the Internet and not the drivers of communication capabilities that exist out there. We are consumers of them and need to take advantage of these waves of innovation that occur. We didn't invent RSS feeds, but we use them. We didn't invent blogging and we didn't invent any of the other technologies, but we are all using those as avenues to communicate and collaborate. As we hire and recruit millennial generation and ingest them into the Department of Navy, they are very comfortable and familiar with all of these tools to do personal business and work-related function."
Among his cybersecurity challenges during his tenure, Carey cited IT security awareness and education among all members of the service:
"We are working very hard to educate our senior executives and flag officers on IT at large. They don't have to be IT experts by any stretch, but as I have said several times and I think others have said, you know every person who engages in network to do their job becomes a cyberspace warrior because you present an opportunity for both being a defender and being a vulnerability at the same time.
As we educate the workforce are at large and we raise the training of the network administration and things like and then we raise and education awareness of the executives of what they need to be mindful for in their part of the department, it affords us this opportunity to sort of go forward with knowledge and comply with things with some understanding about what is expected of you."
Carey joined the Navy's Office of CIO in 2000, regularly being elevated from e-business team leader, to director of the Smart Card Office, to deputy CIO for policy and integration to CIO. Previously, Carey served in a variety of engineering and program management leadership positions within the Navy's acquisition community in the undersea warfare domain. A 1982 graduate of the University of South Carolina with a BS in engineering, Carey earned a master of engineering management degree from George Washington University in 1995. As an active member of the Naval Reserve, he holds the rank of commander in the Civil Engineer Corps, Carey was recalled to duty for Operation Desert Storm and more recently as part of a Marine expeditionary force in Iraq's Al Anbar province.