Navy CIO Sees Key Role for Social Media
Carey Gives Pep Talk to 12,000 Navy IT Personnel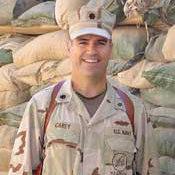 Navy CIO Robert Carey sees social media as a tool to build trust within the Navy. Social media, along with embracing security, are two of six strategies Carey presented in his monthly blog that he says will help the Navy move into the information age and its 12,000-plus strong cyber workforce deliver more effective IT to support its mission.

Here's what Carey wrote about social in his blog, The Cyber/IT Workforce's Bright Future, posted on the Navy CIO website Monday:
"Social media is an inherent part of the toolbox for members of the millennial workforce, while baby boomers are just adopting it. Social media tools should become the standard by which we can share and collaborate on information inside and outside the network boundaries."
In the blog, Carey says Navy IT personnel should recognize the need for and embrace IT security.
"The Cyber/IT Workforce will need to manage the nexus between information access and the necessary security layers. While a great deal of work has been done in this space, much work remains. Secure information sharing presents a very different challenge than does 'secure the network' or 'post it on the website.' As threats increase, so must our vigilance to securely share information and manage the associated risks."
The four other concepts Carey presented:
Embrace Technology: "We must remain a learning organization. As the Internet evolves, so must our workforce and its associated skills."


Adopt Information-Age Thinking: "While the Navy and Marine Corps are rich in culture and tradition, many of our processes are rooted in the Industrial Age and will need to move toward the Information Age to remain relevant in the coming years."


Go Green and the Mobile Worker: "Our Naval Networking Environment~2016 strategy to connect to the network from nearly anywhere, will free up time devoted to commuting, but will require unfettered secure access to information required to perform our jobs"


Recruit Our Successors: "If the Department is to remain pre-eminent, the DON Cyber/IT workforce will be central to that work, ensuring the information is accessible to those who need it anywhere, anytime."
***
Here are other stories and features about Carey: