Kwon to Join RSA as VP
Hired Days After Her U.S.-CERT Resignation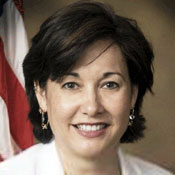 Mischel Kwon, who unexpectedly resigned as director of U.S.-CERT on Friday, will join RSA in early September as vice president of public sector security solutions and help lead its security consulting services practice.

"Mischel is a unique talent with experience in defining policy and establishing governance as well as designing, implementing and managing some of the most mission critical IT infrastructures in the world," RSA President Art Coviello said in a company statement.

Kwon has 27 years of IT experience, including expertise in designing, implementing and managing critical IT infrastructure and security operations, according to RSA. Since 2006, Kwon has served as adjunct professor of cyber defense and heads the Cyber Defense Lab at George Washington University.

At RSA, Kwon will advise clients seeking strategic technical and policy assistance to build, defend, identify and remediate their critical infrastructures against cyber threats, attacks and vulnerabilities. She will also use her technical expertise to help develop the strategy and direction for RSA's products and security solutions.

Kwon was the fourth director in five years to head the United States Computer Emergency Readiness Team, part of the Department of Homeland Security, which analyzes and reduces cyber threats and vulnerabilities in federal networks, disseminates cyber threat warnings information and coordinates national incident response activities.