Cryptocurrency Fraud , Cybercrime , Fraud Management & Cybercrime
John McAfee Charged With Cryptocurrency Fraud
Latest Federal Indictment Comes After Tax Evasion Charges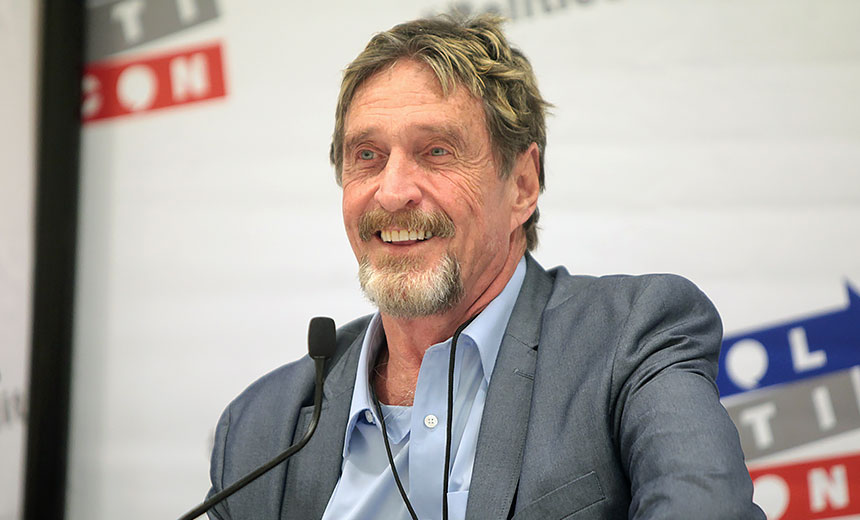 John McAfee, who already faces federal tax evasion charges, has now been indicted for allegedly using his vast social media following to run cryptocurrency pump-and-dump schemes as well as promote virtual currencies to investors without revealing his stake in them, according to the Justice Department.
See Also: OnDemand | Understanding Human Behavior: Tackling Retail's ATO & Fraud Prevention Challenge
McAfee, the founder of the cybersecurity firm that still bears his name, along with his business partner and bodyguard, Jimmy Gale Watson, Jr., are facing numerous new criminal charges, including conspiracy to commit commodities and securities fraud, conspiracy to commit securities and touting fraud, conspiracy to commit wire fraud and substantive wire fraud, according to a seven-count indictment unsealed Friday.
The most serious of the charges, substantive wire fraud, carries a potential 20-year federal prison sentence, prosecutors say.
McAfee, 75, remains in custody in Spain while awaiting extradition to the U.S. The serial entrepreneur and one-time presidential candidate has been detained in Europe since October 2020, when the Justice Department filed federal tax evasion charges against him for allegedly having his income and fees deposited into bank and cryptocurrency exchange accounts held in another person's name (see: John McAfee Indicted on Federal Tax Evasion Charges).
The Securities and Exchange Commission has also filed civil charges against McAfee and Watson for promoting initial virtual coin offerings without disclosing that they held substantial financial stakes in the currencies.
McAfee Denies Charges
Over the weekend, McAfee returned to Twitter and pushed back against the latest charges, writing that he simply made investments in certain alternative cryptocurrencies and that he both lost and made money based on those investments.
The SEC allegations:

My team evaluated every promotion based on management, business plans and potential. No one could have foreseen the altcoin market crash.

We were paid in the same coins that crashed. The SEC allegations are overblown.

— John McAfee (@officialmcafee) March 6, 2021
In the meantime, Watson was arrested and made his first appearance in federal court on Friday.
Alleged Pump-and-Dump Scheme
The federal indictment against McAfee and Watson alleges that the two men, as well as others who worked as part of the "McAfee team," bought alternative cryptocurrencies at below market value and then used McAfee's social media following to inflate the price of the virtual currency before dumping it and leaving investors in the dark.
The alleged schemes ran from December 2017 through October 2018, according to federal prosecutors.
Investigators allege that McAfee, Watson and others allegedly scammed more than $13 million from various investors with these pump-and-dump tactics, says Audrey Strauss, the U.S. attorney for the Southern District of New York, which is overseeing the case.
"McAfee and Watson exploited a widely used social media platform and enthusiasm among investors in the emerging cryptocurrency market to make millions through lies and deception," Strauss noted. "The defendants allegedly used McAfee's Twitter account to publish messages to hundreds of thousands of his Twitter followers touting various cryptocurrencies through false and misleading statements to conceal their true, self-interested motives."
Initial Coin Offerings
In addition to the alleged pump-and-dump schemes, McAfee, Watson and others were involved in seven initial coin offerings - ICOs - with McAfee using his social media platforms to talk up these new virtual currencies but falsely claiming that he had no financial stake in these cryptocurrencies, prosecutors say.
"In each instance, McAfee and Watson failed to disclose to ICO investors that the ICO insurers were paying the McAfee team a substantial portion of the funds raised from the ICO investors for their touting efforts, despite knowing that they were required to disclose such compensation under federal securities law," according to the indictment.
In several cases, McAfee touted investments in cryptocurrency as his "coin of the day" and talked about various virtual currencies on his social media platforms. Prosecutors say that McAfee claimed "he would disclose any instances in which he held an investment position in his 'coin of the day.'"
In December 2017, McAfee and others began touting an initial coin offering called Electroneum. While McAfee claimed on social media that he was merely offering investment advice and was not actively investing in this virtual currency, federal prosecutors allege that the McAfee team used $100,000 in bitcoin to build a position in Electroneum tokens.
"In response to a question on Twitter, McAfee falsely denied that he owned any [Electroneum] tokens or had any self-interest in touting [Electroneum], misrepresenting in a tweet published on or about December 21, 2017, that: 'I own no ETN. I am not pumping for my gain. I am showing you the incredible value of supporting a coin that will change the world,'" according to the criminal complaint.
Through this alleged scheme, prosecutors say, McAfee, Watson and others earned a total of about $11 million.
Earlier Allegations
McAfee has had a colorful history since leaving the cybersecurity firm he founded.
In 2012, McAfee fled from Belize claiming law enforcement officials in the South American nation were attempting to frame him for murder. At the time, local police considered him a "person of interest" following the death of his neighbor, a Florida businessman, according to Wired. He was then arrested in Guatemala for illegally entering the country and deported to the U.S. He was never charged in connection with the death.
In 2015, McAfee told his Facebook followers he had been involved in a shootout with Tennessee state troopers while being arrested for driving under the influence and a gun offense, a statement he soon recanted.
McAfee also briefly ran for U.S. president in the 2016 race (see: Guess Who's Running for President? John McAfee).
On Monday, McAfee's one-time cybersecurity company announced that it would sell its enterprise division in a $4 billion deal to focus exclusively on its consumer business.